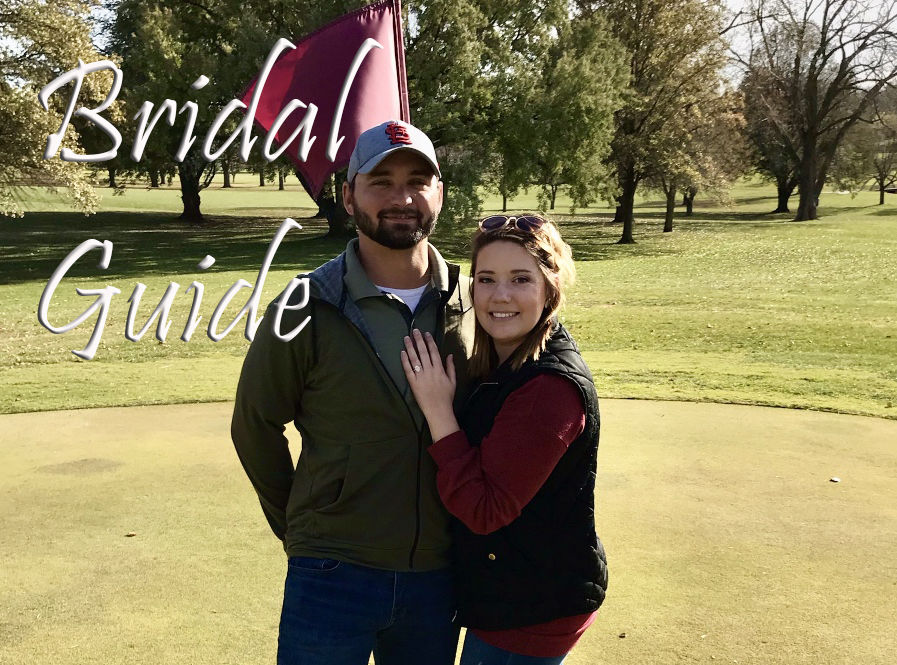 When Laura Perry said yes to an afternoon of golf with Carroll Heitshusen, she didn't realize she would be saying yes on the golf course to a lifetime together.
"It was Nov. 9 he proposed," said Laura. "It was a really nice November, and he wanted to go golfing one more time."
Laura said Carroll was very adamant about playing the front nine of the Shenandoah American Legion Golf Course. Laura found out later that was because their parents were there watching from inside the Elm Street Grill Restaurant.
"When we got there, the front nine had several carts waiting, " said Laura. "I asked if we could just golf the back nine, so we didn't have to wait."
Laura said he agreed to play the back nine but instantly started texting on his phone instead of paying attention to the game. She said this was out of character for Carroll as he tends to be old school and doesn't believe in being on your phone when you are in the company of someone. She found out later he was redirecting their parents to a different location so they could watch him propose.
"We actually golfed really fast," said Laura. "We get up to hole 18, and we're playing best ball so whoever would hit it the closest is the one we would use. He chipped it up onto the green, and then it was my turn to putt. I putted and made it and turned around, and he was on his knee, asking me to marry him."
Laura said she was crying and laughing at the same time with their whole family on the lookout deck, screaming and going crazy. After the proposal, the couple spent the evening with their family celebrating.
The ring Carroll slipped onto Laura's finger is a one of a kind that he designed. As a personal touch, he had engraved "Natural High Forever" on the inside of the ring after their song "Natural High" by Merle Haggard.
Laura is the daughter of Roger Perry and Patty Perry. She was raised in Shenandoah and graduated with the Shenandoah Class of 2013. She has been employed at Valley Dance Studio in Shenandoah for 11 years as a dance instructor and helps with the Valley Boutique store located at the studio. Laura grew up learning dance at Valley Dance Studio with owner/instructor Kristin Gile. Laura also works part-time at The Sanctuary Restaurant in Shenandoah.
Carroll is the son of Quentin and Jane Heitshusen. He was raised in Farragut and attended Farragut schools. He was in the last class to graduate from Farragut Community School in 2010 before they combined with Hamburg to form Nishnabotna High School. Carroll attended Iowa Western Community College, where he received an associate degree and works for Agrivision in Hamburg.
High school is where Laura and Carroll first met. Carroll was a wrestler and Farragut shared wrestling with Shenandoah where Laura was a wrestling cheerleader.
"He was a senior when I was a freshman," said Laura. "So I only cheered for him one year. He went off to college, and we reconnected in 2015 through social media and friends. We started dating in April 2015, and here we are."
Off the golf course, Carroll and Laura enjoy spending time together playing pool and taking care of their two dogs Chewy and Case. They both enjoy working with children, Laura at the dance studio, and Carroll coaching youth baseball.
"Whatever we are doing, we are always with very close friends or family," said Carroll. "We like to have fun, and I like to have fun with Laura alongside me."
Laura admires how driven, and passionate Carroll is and she knows she is always safe when she is with him.
"He puts his whole heart into what he is doing," said Laura. "He's a thinker, and I love that. He always helps me think as logical as possible. He doesn't make rash decisions, so that tells me he is really sure when he does make a decision. So when he proposed, I knew he was sure about me and about us."
Carroll has a few things he likes about Laura as well.
"The thing that I like the most about Laura is how genuinely sweet she is," said Carroll. "She never thinks of herself and tries so hard to make everyone around her happy. You haven't received a heartfelt card until you've received one from Laura. She puts so much time, thought, and love into every one."
Laura and Carroll share a lot in common but show their emotions in different ways.
"I would say the biggest difference between Laura and me is the way we show our emotions," said Carroll." Laura is an open book; she loves to express herself, and she loves to reach out and express how she feels; it might be the dance teacher in her! I am much more introverted, and only really open up with closer friends."
Carroll admires the fact that Laura can make friends with anyone.
"Laura once made friends with an older couple, on the interstate, in a different state, in about two minutes, because they had a cute dog that she had to pet," said Carroll. "I couldn't ever do that! "
Laura said she realized Carroll was the one she wanted to marry early in the relationship.
"I actually told him I loved him for six months before he said it back," said Laura. "I know it took him a while, but that's ok, I was patient."
Laura's patience paid off.
"I realized she was the one after she met my friends," said Carroll. "I've had the same tight-knit group of friends for a long time, and when one of my buddies started asking me about wedding rings, I knew I couldn't let her get away. As a matter of fact, the first time I told her I loved her, we were at our friend's house standing around a bonfire on a cold fall night."
The couple has a few coincidental connections.
"Our first rental house in Shenandoah was the very first house his parents lived in when they moved to Southwest Iowa," said Laura. "I worked with Jane before I reconnected with Carroll. So I thought that was interesting."
Even though Laura knew Carroll's parents from meeting them at wrestling meets and then working with Jane at The Sanctuary Restaurant, she was still nervous for them to find out she was dating their son. She said his parents took the news well and that her parents adore Carroll.
"I remember my dad before Carroll proposed saying 'I can't wait until he is my son-in-law,'" said Laura.
Wedding plans were underway the morning after Carroll proposed.
"He is pretty involved in the wedding plans and has been really helpful," said Laura. "I want him to know it's his wedding too. The morning after he proposed, he woke up, made coffee and was researching venues before I even got out of bed."
The couple is planning an Oct. 3 wedding at the Deer Ridge at Lexington Venue owned and operated by John and Angela Demott. The venue is located north of Lake of Three Fires by Bedford.
"We clicked really well with Angela and fell in love with the venue," said Laura. "It has lodging there too for the wedding party and family."
The couple will have an outdoor ceremony with their close friend Bethann Tillman officiating. An indoor reception will follow.
Wanting to put a personal touch in the ceremony, the couple will write their vows and have live music planned for their first dance with a DJ to follow.
With over 300 guests invited, the couple agreed a wedding should be a formal event and have chosen to request formal attire on their invitations.
Local connections have made the wedding plan process easier for the couple.
"It's really nice to know people," said Laura. "The planning has been a breeze. I haven't had too many challenges with that."
Laura said she was still contemplating over colors for the wedding and had learned it was ok to change her mind.
Laura found the perfect dress at Dream Dress Express, which is the new bridal boutique at Tip Top Tux in Papillion, Nebraska. Laura had invited both of her parents to join her for the special occasion but only her mom was able to make it.
"It was just my mom and me, which I love," said Laura. "I wanted it to be a really intimate moment with just my parents. I wanted one more thing with them before I have kids or anything where I'm their little girl."
Laura said she had bounced a lot of wedding ideas off of the three people she talks to the most. Her fiancé Carroll, her mom, and her boss, Kristin. She said Kristin has helped her broaden her ideas for the wedding.
"Everybody's been very good about making sure they're not saying do this," said Laura. "Instead saying, what do you think about this."
Laura said the biggest challenge so far is taking everyone's suggestions and listening to them but remembering that it is her and Carroll's wedding.
"I'm just trying not to be overwhelmed and enjoy the process," said Laura.
A bit of advice she has for future brides is to make sure your fiancée is involved in the planning of the wedding.
"It's your day together," said Laura. "Make sure you ask him questions, and you're not planning everything without talking to him."
Laura also said if you are planning to attend a bridal fair, don't go with the expectation it will be extravagant and beautiful. She described the event as chaotic.
The couple would like to fly to Ireland but for now, plan to spend a few days honeymooning after the wedding somewhere more local.
"We just want to go somewhere and have time to ourselves," said Laura. "Enjoy being married, relax, and not have to jump right back into work.
Laura said future plans include finishing work on their home they bought three years ago to sell and buy something different or build new. Starting a family is high on their priority list as well. The couple plan to reside in Shenandoah.
Laura is thankful plans have come together smoothly and is enjoying being engaged and planning their wedding. Laura looks forward to becoming Mrs. Heitshusen, but Carroll may have to come up with a new nickname for Laura after her last name changes.
"He calls me Larry," said Laura. "Larry Perry. He thinks it's funny. I don't know where it even started."
Be the first to know
Get local news delivered to your inbox!