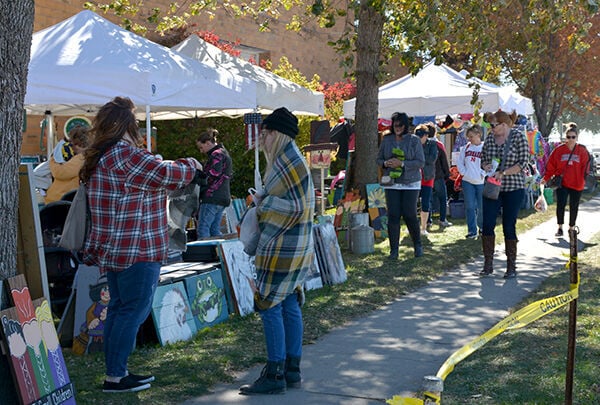 One of the first signs of fall in Clarinda is the annual Clarinda Craft Carnival.
This year will mark the 62nd Annual Clarinda Craft Carnival, known as Iowa's largest handmade craft show. The event will be held on Saturday, Oct. 16, from 8 a.m. to 4 p.m. Admission is $5, with children 10 and under free.
The Clarinda Chamber of Commerce has been helping coordinate and sponsor the event for over 20 years. This year Kerry Treble took the reigns as the event chairperson, with Jan Moses stepping down. Moses had been helping organize the event since the early '60s.
Treble said the Clarinda Craft Carnival draws around 2,000 visitors to Clarinda each year. She said there are roughly 200 exhibitors registered for this year's event showcasing over 400 craft booths. A variety of items will be on display, including pottery, horseshoe art, barn wood furniture, floral arrangements, jewelry, handcrafted glassware, ironworks, modern home décor items, wood carvings, garden art, homemade soaps, decorative crafts, stain glass, holiday and seasonal items and vintage and repurposed doors, windows and screens. Food booths will feature gourmet fudge, dip mixes, salsa, homemade Wisconsin cheese and sausage.
Treble said vendors travel from Illinois, Nebraska, Kansas, Missouri, Minnesota, Wisconsin and Iowa to the event.
Elaine Farwell, executive director of the Clarinda Chamber of Commerce, said it is fun to see what items are popular each year, from the farmhouse look to modern décor.
"Every year, it's kinda fun to see that hot item," said Farwell.
The Clarinda Craft Carnival will utilize five buildings for the event this year. At the Page County Fairgrounds, booths will be set up in the Cow Palace and Wibholm Halls. Other locations utilized will be the Clarinda Academy gymnasium, Clarinda High School gymnasium and the Clarinda Lied Center.
Farwell said shuttle buses would run between all buildings during the day at no charge. She said there is a federal mandate at this time that masks are required on the shuttle busses, and that is something patrons will need to adhere to throughout the day on the shuttles only. There will be masks and hand sanitizer provided at each building for patrons.
Each location will have concessions available throughout the event sponsored by several different groups. SWI Humane Society will sponsor page County Fairgrounds concession stand. The IJAG Class will sponsor the Clarinda High School concession stand. The Clarinda Swim Team will sponsor the Clarinda Lied Center concession stand.
This year, Treble said something new that will be fun is a couple of food trucks will be available at the Clarinda Academy location during the event.
The planning for the event begins in February with the help of many volunteers to make the event successful. Volunteers helping Treble and the Clarinda Chamber of Commerce this year are Whitney Beery, Shaney Bergren, Maggie Brown, Bonnie Haynes, Tammy Horn, Crystal Tarra, Merideth and Jim Maranville, Emily Martin, Jennifer McCall, Mat Ridge, Taylor Stansbury and Kristin Wagoner.