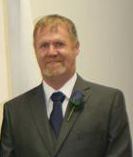 As the COVID-19 pandemic continues to spread in the United States, school and restaurant closures impact the freight market.
"Today alone, my case count was down 250 compared to what it normally is," said former Sidney resident, Brian Bartles. "Therefore, I lost about three and a half hours of work today."
Bartles delivers food products to schools, restaurants, bars and nursing homes across Nebraska and Iowa.
Restrictions have been implemented at nursing homes amid the COVID-19 outbreak that alter Bartles' routine.
"We are not allowed to come into the nursing home," said Bartles. "We have a designated area that we drop off the product. Then their staff takes it from there and gets it to the kitchen and the proper places."
Bartles understands why the nursing homes placed restrictions and said schools are implementing the same procedures to limit the person to person contact, designating safe drop off areas for drivers delivering product.
While the trucking industry works to keep product moving to stores and places of business, drivers must find ways to keep themselves safe.
"I wear gloves at every stop," said Bartles. "I use hand sanitizer and have been doubling up on the handwashing. We carry a handheld device that scans products as we take it in and the customer that we deliver to can use their finger to sign the tablet after we deliver. We no longer allow them to sign it. That's just one less person touching our equipment."
Bartles said if he has to stop for fuel while out on his route, he can pay at the pump with a card and tries to avoid going inside truck stops as much as possible.
Bartles said he brings his own food as do a lot of his co-workers. Unfortunately for over the road truck drivers, this may not be an option. With restrictions in place across the U.S., there are fewer options for truckers to find meals.
Amongst all the challenges truckers are facing during this threat, their thoughts still go out to others being impacted.
"People are out there running scared," said Bartles.
While Bartles understands why school closures were put in place, he is concerned about the effect this will have on students.
"What's going to happen to the kids that really need that teacher interaction at school," said Bartles. "Are they going to fall behind and not be able to keep up after school resumes."
Be the first to know
Get local news delivered to your inbox!