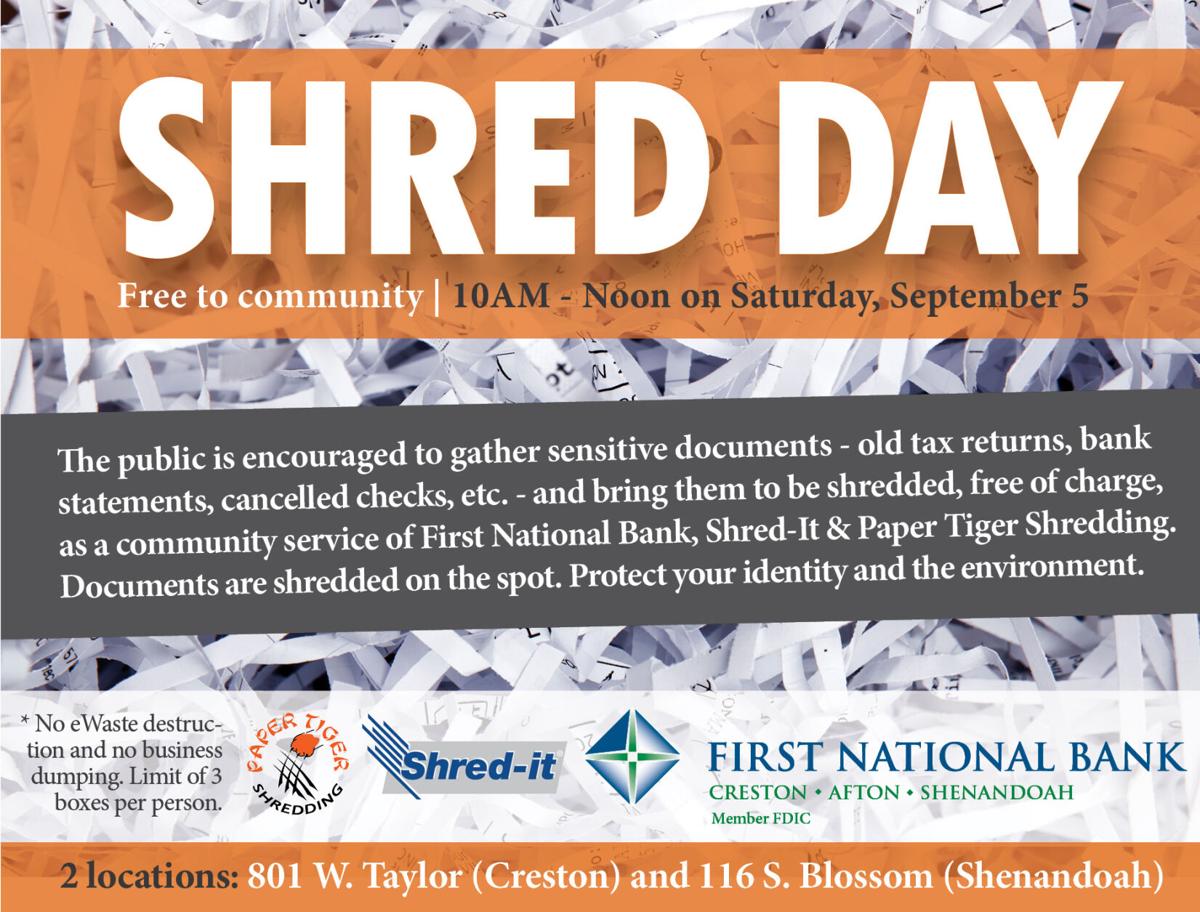 Last year, identity theft crimes in the United States remained high with Javelin Research reporting that about 1 in 19 Americans (5.10%) were victimized. 
And, those crimes are not expected to slow down much in 2020. That said, one of the best ways to protect yourself is to securely destroy sensitive documents like old tax returns, bank statements and cancelled checks.
First National Bank will give you that opportunity when they host a community Shred Day from 10 a.m. to noon Saturday, Sept. 5 at their consumer bank location at the corner of highways 34 and 25 (801 W. Taylor St.) in Creston and at their Shenandoah location (116 S. Blossom St.).
"This is a free event to the public," said Julie Lanning, cashier and vice president at First National Bank. "You don't have to be a customer of ours to attend. As bankers, we want the public to be mindful of how they dispose of unwanted documents that could otherwise fall into the wrong hands. There has never been a better time to be diligent in protecting your identity and credit."
For this event, First National Bank has partnered with Shred-It Stericycle Solutions and Paper Tiger Shredding. All documents will be shred on-site that day and these companies have an external video monitor on their truck so the public can view their documents being shredded.
The public is invited to bring up to three boxes of documents to shred free of charge. No business dumping, please. Also, the bank will not be accepting eWaste like in the past, such as unwanted computers, laptops, cell phones and fax machines as these partners don't offer that service at this time.
This event will continue rain or shine. For questions or further information, please contact Kyle Wilson at First National Bank by calling 641-782-3417.
First National Bank is a full service community bank locally owned that specializes in commercial, ag and personal banking. First National Bank has offices in Creston, Afton and Shenandoah with assets of $372 million. Member FDIC. Equal Housing Lender.
Be the first to know
Get local news delivered to your inbox!