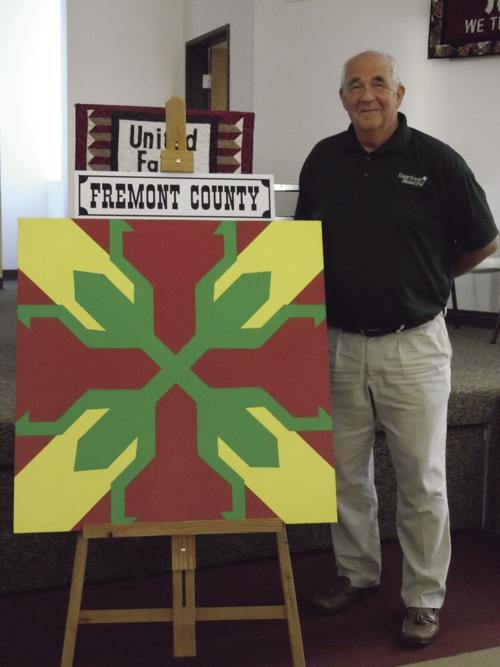 Members of Fremont County's Hometown Pride committees met at the United Faith Church in Sidney on June 30 to celebrate the many successes of Hometown Pride over the last seven years and thank Hometown Pride Coach Doug Friedli for his guidance from the beginning.
Hometown Pride is a program that was developed in 2012 by Keep Iowa Beautiful to help towns and counties improve their appearance and their cultural and economic vitality.
It requires a five-year commitment of time, money and effort from those it serves, and provides a coach that meets with the committees monthly and guides them to develop and achieve their own goals, while training the next generation of community leaders.
In 2012, Twila Larson of Fremont County Economic Development Corporation and KIB presented the idea of a Hometown Pride program in Fremont County, and persuaded then Fremont County Board of Supervisors Randy Hickey, Earl Hendrickson and Cara Morgan to support the program financially.
Doug Friedli was chosen to act as Hometown Pride Coach for the towns of Bartlett, Farragut, Hamburg, Imogene, Percival, Randolph, Riverton, Sidney, Tabor and Thurman. Riverton's committee eventually disbanded prior to the end of the five year term, and Imogene's merged with the Sons and Daughters of Imogene after the end of the program term.
The committees that survived in one form or another ran with the programming and support, creating the successes celebrated at this event. At the end of the program five years, the committees and county were so impressed with progress they asked Friedli to continue coaching, at least on a part-time basis, and he did, for another two years.
Organizers showed a Keep Iowa Beautiful Hometown Pride YouTube video and a PowerPoint slideshow created by Susan Shepherd highlighting some of the successes of the committees.
Friedli, who just recently retired from coaching Hometown Pride, talked to the audience about some of the projects seen in the slide-show, and ways he measured and reported the county's successes.
"One way to measure the success of Fremont County Hometown Pride volunteers is with numbers," Friedli noted, "123 grants received totaling $650,000 + 13,493 volunteer hours valued at $270,000 + $108,000 raised for six new community endowments = over $1 million dollars reinvested into Fremont County."
"In addition," Friedli added, "six of the seven goals we set in 2013 for Hometown Pride in Fremont County have been achieved."
Goals established in 2013 included:
1. Improve first impressions
2. Enhance quality of life
3. Eliminate nuisance/derelict properties
5. Develop leadership abilities
6. Capture transfer of wealth
7. Grow the population of the county
Some examples of how these goals were achieved were:
1. Town cleanups, landscaping efforts, public art and welcome signs
2. Trail development efforts, trees planted, new playground equipment and increased social interactions
3. Cleanup of buildings, painting and landscaping
4. Youth helping with painting, landscaping, cleaning and planting
5. Each of the Hometown Pride committees elected its own leaders and members took charge of specific projects
6. Six of the communities were able to establish community endowments that will help support future projects and events
Friedli noted the only goal they had not had success in was that of growing the population, but pointed out the 2019 flood and subsequent pandemic played some part in that. He spoke briefly about some of the upcoming projects and plans to address needs that should point the county back in the right direction.
Retired Keep Iowa Beautiful Executive Director Gerry Schnepf and Associate Director Bill Jackson were on hand at the event to help celebrate the county's successes and thank Friedli for his service. Jackson presented the 2021 Keep Iowa Beautiful Donald F Lamberti Hometown Pride Vision Award to Friedli symbolically as he had already received it officially. The award is given to those who work to "improve and enhance the quality of Iowa, and embody a
passion for building a higher level of pride through leadership."
Fremont County's Hometown Pride Committees presented Friedli with a copy of the PowerPoint slide show depicting photos of successful Hometown Pride projects, and the Fremont County Barn Quilt made by Percival Hometown Pride, in recognition of his contribution to their success.
Jackson and Schnepf awarded the 2019 Keep Iowa Beautiful Robert D. Ray Award of Excellence to the community of Percival for their recovery from the flood of 2011. This award was supposed to be presented at the Iowa Governor's office on March 30, 2019, but Percival community members were unable to attend that ceremony due to the 2019 flood.
Hometown Pride representatives recognized and thanked FREDCO, the Fremont County Board of Supervisors, Iowa Foundations/Omaha Community Foundation, Fremont County Community Foundation, Fremont County Tourism Board, local banks, the city councils of Fremont County towns and many other supporters who had donated to or otherwise supported their efforts over the last seven-plus years.
The group, composed of members of almost every Fremont County Hometown Pride committee, joined in thanking Friedli for his advice and friendship over the years. Friedli was unashamedly emotional, telling them it had been his honor and pleasure, and thanking them for the memories.