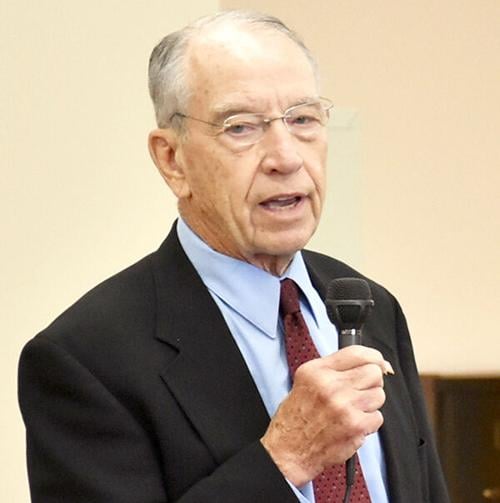 DES MOINES — Add U.S. Sen. Chuck Grassley's 27-year streak of not missing a Senate vote to the repercussions of the coronavirus pandemic.
Grassley, 87, president pro tempore of the U.S. Senate and third in line for the presidency under the order of succession, announced Tuesday that he has tested positive for COVID-19 and has placed himself in quarantine.
"This morning, I learned that I had been exposed to the coronavirus. I received a COVID-19 test and immediately began to quarantine. While I still feel fine, the test came back positive for the coronavirus," Grassley said in a statement issued through his office. "I am continuing to follow my doctors' orders and CDC guidelines. I'll be keeping up on my work for the people of Iowa from home. I appreciate everyone's well wishes and prayers, and look forward to resuming my normal schedule when I can. In the meantime, my offices across Iowa and in Washington remain open and ready to serve Iowans."
Grassley, a Republican who was first elected to the Senate in 1980 and currently is serving his seventh, six-year term, indicated he planned to continue working virtually from home. Staff members noted that he can participate in nearly all Senate business aside from voting under the chamber's rules.
"As always, Sen. Grassley is prioritizing the health and safety of others by quarantining after exposure to COVID-19 — highlighting how important it is for every Iowan to do their part to help slow the spread," said Jeff Kaufmann, chairman of the Republican Party of Iowa. "Unfortunately, this also means Grassley will miss his first vote in 27 years — the longest period of time any senator has gone without missing a vote in U.S. history.
"This is an unprecedented accomplishment all Iowans are proud of, and I applaud his outstanding work ethic and dedication to our great state," added Kaufmann, a community college history and political science instructor. "Iowans can rest assured knowing Grassley will get right back to work and never miss a vote as soon as his quarantine period ends."
Grassley has not missed a vote in the U.S. Senate since 1993, according to his staff, when he traveled to Iowa while the Senate was in session to tour the record flooding that year with President Bill Clinton.
In a message he issued Monday, Grassley encouraged Iowans to redouble their efforts in the fight against the coronavirus.
"Everyone should consider what they can do in their own way to help keep their families and communities safe and healthy. For the Grassleys, this means we are not going to have our typical large Thanksgiving Day family gathering. We've been wearing masks and practicing social distancing when we do encounter others. We've also taken part in virtual events in lieu of in-person gatherings and stepped up efforts to sanitize often," he said.
Grassley's public announcement came on a day when state Department of Public Health officials reported 3,559 new positive cases in Iowa and 34 more deaths.
To date, a total of 190,594 Iowans have contracted coronavirus and 2,025 have died from the disease.
Concerned about COVID-19?
Sign up now to get the most recent coronavirus headlines and other important local and national news sent to your email inbox daily.