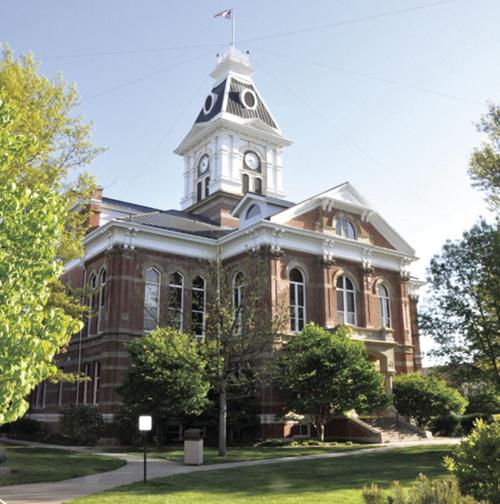 Two motions made by Page County Supervisor Jacob Holmes concerning the supervisors' salaries during the Page County Board of Supervisors meeting on Jan. 14 were rejected.
After listening to proposals from different departments concerning pay increases throughout the week, Holmes motioned to discuss supervisors not receiving a raise but should reduce the supervisors' salary by 4%.
"I would like to see the supervisor salary cut by 4% going back a year in time," said Holmes.
Holmes's reasoning for the motion was to lower the county's tax burden and lead by example.
Supervisor Alan Armstrong seconded the motion for discussion.
"I have mixed feelings about raises, but I also feel that for the future of supervisors, we probably need to continue in a forward motion," said Armstrong.
Armstrong said he would not favor going backward in the supervisors pay. He felt for the county to progress and keep people interested in public service, the supervisors' pay needed to stay comparable to other counties.
"I do this for the love of the community, love of the county, love of my fellowship for people," said Armstrong. "But also, there has to be somewhat of a reward at the end of the year to make it worth the time that I give up."
Armstrong was referring to his spare time and family time he had given up to tend to county business.
"Ya, maybe I'm a little bit selfish, but on the other hand, I feel I try to do the very best for a wide variety of people and their thoughts and concerns," said Armstrong.
Armstrong figured he spends an average of four to eight hours a day on county business in addition to running his own business.
"I wish I had more time to give my place of business," said Armstrong.
Holmes found that Page County ranked 50 for population and 37 for supervisors' salary in Iowa's 99 counties. He noted some Iowa counties had approved no raise for supervisors while Union County had a 3.85% pay decrease.
"It isn't even tons of dollars," said Holmes. "It is the principal of the matter. It only backs us up; I think one year. I don't think we're going into the stone ages and at times, if they need to go up, they can go up after this".
Supervisor Chuck Morris commended Holmes for wanting to cut his own pay calling it admirable. Morris suggested that if Holmes wanted to lead by example that he donate part of his salary back to the county for property tax relief.
"I would agree with the statement that we're not underpaid," said Morris. "I don't believe we're underpaid."
In a nine-county study that he supplied to Holmes, Morris said the per capita cost of each supervisor in Page County was lower than the counties included in the study.
"The per capita cost in Page County is $2.41," said Morris. "The average of the nine counties is $3.10. So we're under the average per capita cost. When you run a business, it costs a lot more money to run a million-dollar business than it does a $20,000 a year business."
Morris felt the per capita cost of what tax payers are getting was a good value. He added to continue
attracting quality candidates for the supervisor's job; the county needed to stay up on salaries.
Holmes replied that plenty of qualified people were interested in the supervisor job during the last election at the current salary. He thinks of the supervisor's position as a service for the county and taxpayers, not a full-time job.
"And to that point, this has been a tough year and when I sit here and Alan sits here and you sit here and you get a room full of people that say you're a liar and they get in your face and scream at you that's beyond public service," said Morris. "That's going to drive people out of public service, so you better have some money on the table to pay people."
Holmes said he was unaware of the supervisor's salary until after he was elected.
"I didn't know where to even find that," said Holmes. "So it has nothing to do with money for me. I think we're being paid pretty well and that's why I made that motion.
With Armstrong and Morris voting no, Holmes's motion to reduce the supervisor's salary was rejected.