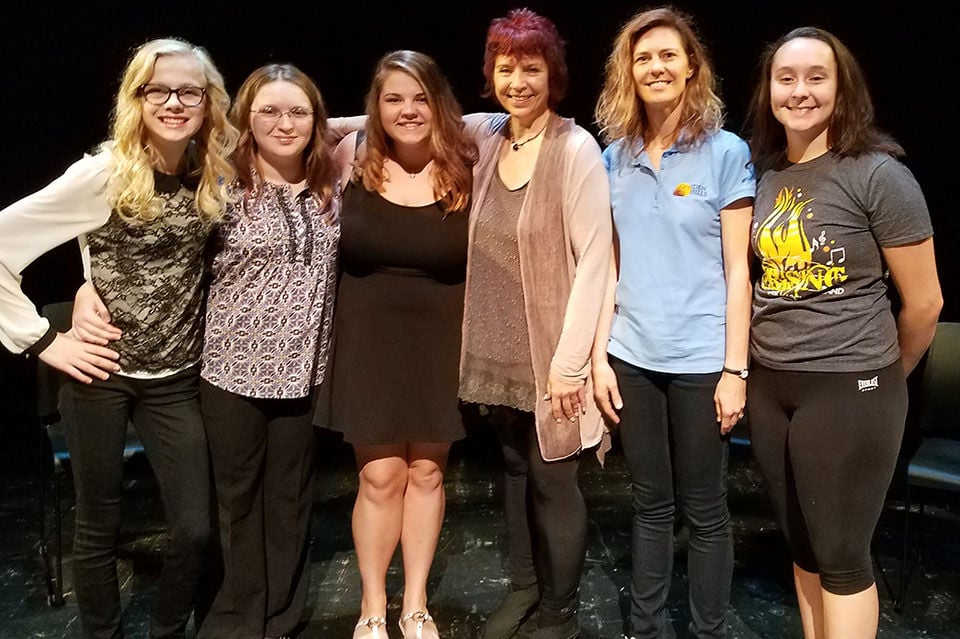 It starts like a fairytale. Jude Treder-Wolff, a professional storyteller, singer, songwriter from New York, and Tina Bakehouse, Golden Hills RC&D Outreach & Communication Coordinator from Southwest Iowa, cross paths in Montreal for the 2015 Applied Improvisation Network Conference. After connecting at the conference, Treder-Wolff invites Bakehouse to perform on stage in New York, and later, the two develop and coordinate a week of storytelling for Southwest Iowa youth this past September.
During the summer and school year, Treder-Wolff and Bakehouse coached four Southwest Iowa teens: Shelby Hindman, Lilly Proctor, and Ali Honnold from East Mills High School and Abigail Sherman from Red Oak High School. During their coaching sessions, students learned how to compose the five beats in a story and deliver their story with confidence and ease in front of their peers. From her experience, Treder-Wolff notes, "The process of developing an experience into a story that is meant to be shared with other people can teach a teen to attend to feelings while at the same time work to understand and gain perspective on them." Treder-Wolff and Bakehouse facilitated two storytelling workshops at East Mills High School in Malvern, during which the performers practiced their stories for a teen version of Treder-Wolff's show (mostly) True Things.
On September 28 and 29, the teens and Treder-Wolff performed at the Wilson Performing Art Center in Red Oak, Iowa. Following each show, the performers received a standing ovation from over 350 students and adults from Atlantic, Shenandoah, Malvern, Henderson, Hastings, and Emerson. Performers Honnold, Proctor, and Hindman all expressed that this experience improved their public speaking skills and enhanced their overall confidence. Audience members reacted positively to the storytelling shows: students hugged, congratulated, and noted the bravery of each young performer. Following her stunning performance of a heartfelt story about her dad, Honnold stated that more than 20 students, most of whom she didn't know, talked to her the following day at school. Storytelling connects people. Treder-Wolff agrees there are additional benefits of storytelling: "Teens are working through brain changes that render them much more vulnerable to emotional overload as well as their approval rating with peers, and storytelling is an opportunity to channel the impulse to take risks with one another into a healthy creative process." Furthermore, Treder-Wolff highlights, "Crafting and sharing a personal story hijacks teens' natural desires to impact one another and dedicates that desire to creative thinking, self-expression and other communication and interpersonal skills that are then available for other situations in life," making a long-lasting impression and impact for both the listener and speaker.
A teen's first language is feelings, and as teens express their feelings, they are learning effective communication skills they will use in their adult lives. Treder-Wolff has seen great success in New York when working with teens, which is why Bakehouse, in her new role at Golden Hills RC&D, brought Treder-Wolff to Southwest Iowa to share the power of storytelling. Golden Hills is a nonprofit organization whose mission is "to develop and promote sustainable and cultural conservation projects that enhance quality of life and preserve the assets of rural western Iowa." A special thanks to our sponsors for supporting the arts: Malvern Bank, Chat Mobility, Dr. Mert Knudson, and other Malvern and Red Oak local businesses. From this pilot project, Bakehouse plans on continuing and growing the teen storytelling program, scheduling events for November 8,9, 2018 at the Wilson Performing Arts Center. As Treder-Wolff reminds us in song during her show, "To be continued..."