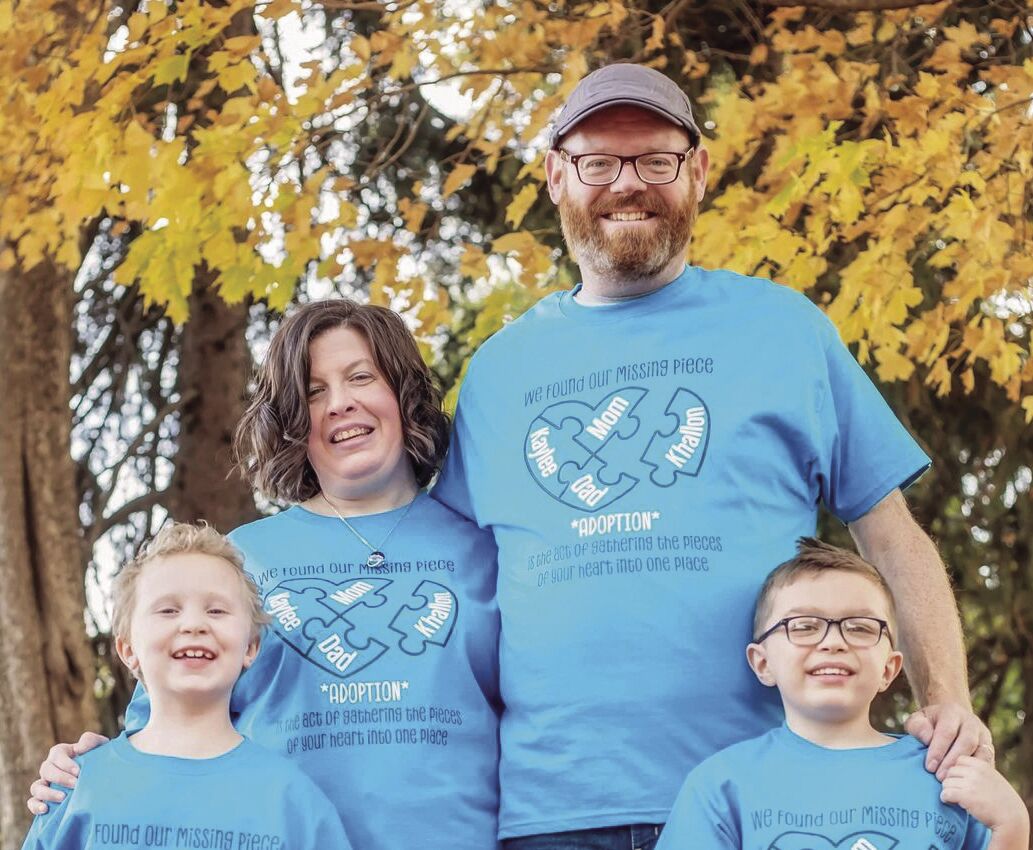 For the past 20 years, the Saturday before Thanksgiving has been a time to celebrate foster care adoptions in the United States.
This year National Adoption Day will be observed on Nov. 21. However, a celebration that began in 2000 to raise awareness of children in the foster care system waiting to be adopted will be held differently due to the COVID-19 pandemic.
National Adoption Day was founded by a coalition of national partners that included the Dave Thomas Foundation for Adoption, Congressional Coalition on Adoption Institute, Alliance for Children's Rights, and Children's Action Network. In the United States, over 120,000 children are waiting to be adopted in the foster care system.
Last year, John and Erin Olson of Shenandoah celebrated their daughter Kaylee's adoption with a family trip to the movie theater to see "Frozen" on National Adoption Day. This year the family will celebrate on Saturday with the adoption of a son, Khallon.
While the adoption process cannot be done in person this year because of COVID-19, the virtual experience has opened up the door for family members that don't live nearby to be part of the experience.
"While we were a little disappointed that we could not do the adoption in person, this I think is going to work out better for all of our extended family that want to participate but couldn't make the drive here to Shenandoah," said John.
John and Erin received a phone call from Children's Square in Council Bluffs in May that an 8-year old boy living in the shelter was looking for a forever home.
"He'd been there in their shelter for a couple of years," said John. "We got to go up and meet him, and things just clicked and worked for us, and in a couple of weeks, he moved in with us in the middle of May."
John and Erin said that Khallon has adjusted well and is thriving at school in the second grade.
"We knew that with the trauma and his previous place at the shelter that he had some behaviors with school, and those have completely washed away," said John.
Bringing a new child into the home can be challenging in any situation. John and Erin recognize their daughter Kaylee has struggled with some jealousy but are helping her adjust to having a brother.
"She's always known that we would do more foster care and even adopt," said John. "But I don't know if she thought that actually would happen because every time we've done respite or foster care, the kids have come in, and then they leave."
John feels the closeness in age of the two children has been the most challenging for them.
"I joked that if we could get through the summer of 2020 with us being home all day every day that we could probably make the next 18 years work," said John.
The adoption of Khallon brought the opportunity for John and Erin to keep a sibling group together.
"Khallon has an older brother who is nine, and once we adopt Khallon, then in early 2021, his brother will probably move in with us," said John.
John and Erin are excited at the possibility of adopting a third child.
"So we'll have a 7, 8, and 9 years old," said John. "Which is fun now, but boy, I'm looking at those teenage years thinking, are we ready for that."
John said Khallon's brother has been staying with them every other weekend since early October to start building a bond, and they plan for him to spend Christmas with them this year. In anticipation and excitement of celebrating Christmas with three kids this year, John has been buying
"I may need an intervention," said John. "I've been buying presents all year, and I need to stop because I may have gone a little overboard."
John admits he doesn't plan on splurging for presents like this every year but says this is a special year.
"We've got two boys that are a part of our family now, and we want to celebrate, and we want them to feel special and loved and that they're part of a family," said John.
John and Erin started their own Christmas tradition when they begin providing foster care.
"In our house, we decided a long time ago when we do foster care that when Santa comes he gives gifts for the entire family to share," said John.
So while the kids will receive individual gifts from John and Erin, Santa's gifts will be board games, an experience, or something else the family can share.
"So that's been fun to try to find things for a family that Santa can leave as a gift instead of Santa leaving individual gifts for the kids," said John.
When John and Erin received their license in Nov. 2018 after taking foster care and adoption classes, they didn't have a number in mind of how many children they would like to adopt.
"We've always been told that adoption through foster care can be difficult because that's not the plan with the Iowa foster care system," said John. "The plan is always to shoot for reunification, and that's what we knew going into it, and that's what we wanted was to help work with biological parents to get their kids back. Just to be a support system for the kids, provide them a safe home while their parents worked out whatever they needed to work out and then help those kids reunify with their parents."
Two years later, John and Erin said that looking at adopting a second and third child had their heads spinning just a little bit.
"While we're super excited about that, that isn't the way we thought it would go this quickly," said John. "Things have kinda happened for us. It's almost like it was meant to be."
John and Erin have become a little more creative in creating memories as a family for the kids during the COVID-19 pandemic.
"We've done a lot of things outside," said John. "Just here around the area, we've done a lot of the Wabash Trace. We're thankful to have that because the kids can run and explore nature."
While John and Erin didn't provide a home for many foster care placement kids this past year, COVID-19 raised many challenges for the one they did provide a home for and a lot of their friends providing foster care homes.
"COVID made it harder because they limited the visits with outside units," said John. "So a lot of things had to be done with Zoom or video conferencing."
John said for kids, not having that physical interaction with their parents is hard.
"First of all their being ripped from their mom and their dad, and they don't understand why," said John. "Then they are put into stranger's houses, and they don't understand why and then you tell them, well, let's look at a telephone screen so you can talk to mom, and they don't understand why."
Dawn Luetje, Project Manager of Lutheran Services In Iowa (LSI), said the COVID-19 pandemic had increased resource/foster families' need. Currently, in Page County, there are 18 licensed resource families.
"It's placed a lot of extra burdens on some families," said Luetje. "So being willing to consider foster care at this time has been something that they aren't quite as willing to do. Some families have someone sick at that time and not able to take placements. We have some of our foster families who have family members that have higher risk medical needs and haven't been taking foster care placements this year. So the need for foster families has increased."
Luetje said LSI also has four shelters in the 30 county area they serve, and currently, all of the beds are full of children waiting to be matched up with a foster care family or a forever home. She said finding a home for kids over the age of 10 and for sibling groups continues to be a challenge.
"There is also a need to recruit minority foster homes so children can maintain some of their cultural traditions and values," said Luetje.
Luetje said LSI has continued to do orientations and pre-service training for foster and adoptive families throughout the pandemic, at times switching to virtual classes.
"We have to keep going forward and providing classes and providing options for families to get licensed," said Luetje.
Recognizing the needs that children have is an important key, said Luetje.
"These are kids coming from situations of loss and trauma," said Luetje. "So, it takes them a while to adjust. We're not looking for kids that are going to fit into your family. You have to recognize that we're looking for homes for these kids in situations that are going to be stable."
Luetje said, in the beginning, providing a home for a foster child may not be easy. In the long run, she said if you can hang in there, a more stable partnership will form between the child and foster family in either helping reunify the child with their family or into a forever home.
"Resource Families (Foster and Adoptive or Relative) need to be patient and committed in order for children to begin to trust adults as safe people whom they can be themselves with and start to just be a kid," said Luetje.
Luetje said John and Erin Olson have the right mindset.
"They recognize that they have to hang in there with the kids and provide that acceptance for the child as an individual," said Luetje. "They're letting those kids be kids, and it's so neat to see because sometimes it's easy to look at the problem and not the child, and they don't do that. They're letting these kids succeed."
Although National Adoption Day will look different this year, Luetje hopes the adoptive families that are adopting recognize how very much it is appreciated that they followed that call and are pursuing adoption even amid this challenging time.
The first step to becoming an adoptive parent is to fill out an inquiry form on Lsiowa.org/foster. Click on the prospective parent box and fill out the inquiry form. A recruitment specialist will contact you about attending an information session.
The information session is an opportunity for families to determine if adoption is the right fit for them with no obligation to go further. If a family decides they want to adopt, they will go through several background checks before enrolling in a 30-hour training series to prepare them to care for children in the child welfare system. A home study is also completed.
LSI will make a recommendation to the Department of Human Services whether a family should be licensed as a foster home or approved as an adoptive home. DHA makes the final determination based on their recommendation.
Visit lsiowa.org/foster or call 866-409-2351 to get started and change the story for an Iowa child.
Be the first to know
Get local news delivered to your inbox!