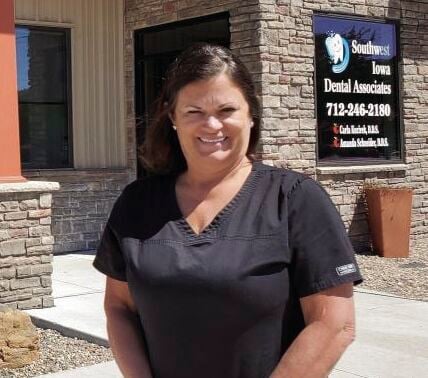 Owner and founder of Southwest Iowa Dental Associates, Jillian Travis is one of the newest members serving on the Iowa Dental board. Southwest Iowa Dental is the area's only state of the art facility featuring the latest technology and top of the line dental equipment. Jillian has been in the dental industry for 33 years and founded Southwest Iowa Dental in 2011. Travis saw a need to bring a full range of dental procedures beyond that of a general office such as dental implants, clear aligners, surgery with sedation, and sleep studies, to name a few. When asked about why she felt compelled to build a new dental office, Jillian said: "Providing the patients and residents of Southwest Iowa and surrounding communities all of the specialty services that you would receive in the city without having to drive to the city has been well received, especially by the elderly community and young families. Building a leading-edge dental facility has been a long-term goal of mine and it's been a blessing seeing it come to light." 
In May 2020 she was sworn on to the Iowa Dental Board by Governor Kim Reynolds. She joins a nine-member Board and is serving a three-year term. As one of two dental hygiene members of the Board, Jillian additionally serves on the Dental Hygiene Committee and holds a position with Continuing Education Committee. The Dental Hygiene Committee regulates the practice of dental hygiene and adopts recommendations regarding the practice, discipline, and licensure of dental hygienists. Additionally, Jillian is a Certified Level 2 expanded functions hygienist. When explaining what motivations were behind joining such a prestigious group, Travis replied: "Having 13 years of experience in city government, I felt very familiar with the parliamentary process and wanted to give back to the profession that I respect and appreciate every day."
The Iowa Dental Board is the state agency charged with the overall responsibility for regulating the professions of dentistry, dental hygiene, and dental assisting in the state of Iowa. The Board's mission is to ensure that all Iowans receive professional, competent, and safe dental health care of the highest quality. The Board does this by administering and enforcing the provisions of Iowa law that relate to the practice of dentistry, dental hygiene and dental assisting.
Be the first to know
Get local news delivered to your inbox!