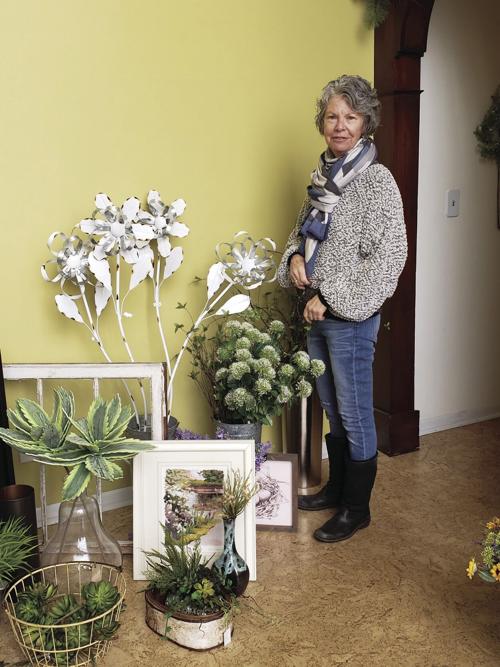 Nestled within downtown Shenandoah, a hidden gem called Serenity Studio Floral & Spa draws patrons with its wonderful aroma, charm and unique items. Originally built as a photography studio in the early 1900s, the building includes a dynamic skylight, cozy atmosphere and unusual architecture.
"I've always admired the structure of the building," said Patti Gee, owner of Serenity Studio Floral & Spa.
When the building, which adjoins to her husband's law office at 110 S. Elm Street, came up for sale, Gee and her husband decided to purchase the building. She said from there; everything fell into place with Serenity Studio Floral & Spa opening on Aug. 1, 2008.
With a flare and talent for floral design that she learned from working at the Red Oak Greenhouse over the years, Gee knew she wanted to open a floral business one day.
"I am a full florist and specialize in unusual arrangements," said Gee. "I try to keep them a little different."
Gee said traveling to markets in Las Vegas, Nevada; Dallas, Texas; and Minneapolis, Minnesota helps keep her updated on the new floral design trends. She also offers delivery.
Tucked neatly into the building, you will also find an assortment of décor, candles, lotions, gifts and goat's milk soap. Gee said the goat's milk soap is a popular item that is made in Kansas City.
"I have a lot of different items and I try to keep everything a little different," said Gee. "I want it to be a nice experience."
Gee said her theme is romancing your life and located at the back of the store is the entrance to a relaxing spa that includes two soaking tubs, a steam shower, a dry sauna and a massage therapist upon request. Gee said the spa was incorporated into the business because the building where her husband's office is located had a steam shower and dry sauna from when it was home to a gym back in the '70s.
"So I knew that I wanted to remodel that," said Gee.
With the COVID-19 pandemic, the spa is open by appointment only. Gee said singles, couples, mothers and daughters and groups have all rented the area and outside food and drinks are allowed. She said the spa area is used a lot for wedding parties
"It's fun because they have the whole area to themselves," said Gee. "Its nice and cozy back there and they can play their own music and sit and relax and visit. A lot of them come out and do a little shopping."
In addition to the spa, yoga and pilates classes were offered until the COVID-19 pandemic hit. Gee said once things get back to normal, she hopes to bring the classes back to the studio.
Gee noted that she is looking for someone interested in taking over the spa area and making it into a separate business. She said there could be great possibilities by adding nail, pedicure and facial services.
Located across the street from Serenity Studio Floral & Spa, Gee owns a vintage shop that includes albums, primitives and retro items. She said patrons are on their own to browse the vintage shop, enjoy the atmosphere and take their time.
Gee said she is pleased with her business and acknowledged it draws many people from out of town. She said she appreciates all the support from the community and surrounding area, especially throughout the pandemic.
When asked what her store hours were, Gee replied, "My hours are when the lights are on."
Gee said she prefers to stay flexible and doesn't want to be tied down.
"If something comes up and I need to go somewhere, I'm gone," said Gee.
Gee does have three part-time employees and even though she doesn't post regular hours of operation, she said people could call her anytime at 712-246-3550 and if the store isn't open, she can run down and open the store if she is in town.
Gee said it is the perfect pre-retirement business for her and sees herself continuing for another five years. She hopes to find the ideal buyer when she does decide to retire to keep the business thriving.
"I think Shenandoah has great possibilities," said Gee.