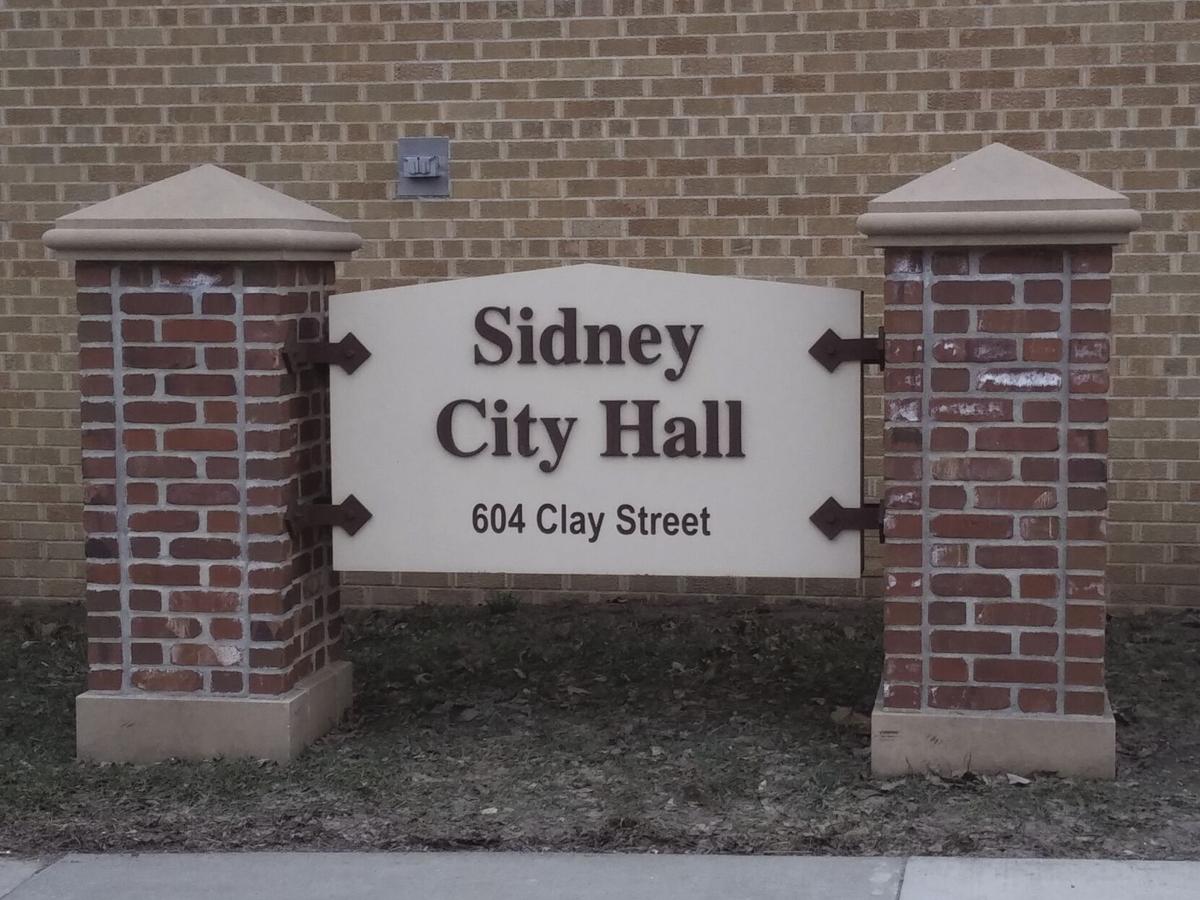 The Oct. 25 meeting of the Sidney City Council started with the customary roll call and approval of the agenda and consent agenda. The consent agenda included the following: 
Oct. 11 minutes
Payroll report #21
The library report
A liquor license for Casey's  
The reports from the clerk's office
Steve Perry, city engineer, took his familiar spot in the agenda to update the council on the water system improvement project as he has been doing for many months.
"Two weeks ago we were still testing the rural water transmission main, and it was not clear. It was interesting, we took two samples at each contact point, and there are five sampling points. The first test at one location passed, and the second one failed. So, the contractor is going to pull samples again tomorrow (Tuesday), and we'll know by midday with the results of that. With that passing tomorrow, we are set up for the water treatment plant for our contractor to get in this week to check off the final items," Perry said. "Our equipment supplier for our water treatment process is scheduled to be here next Monday to go through their final items. Once they get that done, we can move in to fill the water tower. It will take a week to go through that process. Things could happen and happen quickly here with a clear sample tomorrow. It looks like it could all be ready by the middle of November."
The samples did not pass on Tuesday so the transmission main will be tested again on Thursday. 
Perry indicated that there were finally two bids to decommission the city well, Vertical Well, No. 6 per Iowa Department of Natural Resource standards. The council approved a bid of $4,240 for Rieschick Drilling Co., Inc., from Falls City, Nebraska, to do the work. He added, "This work will be scheduled once the timeline is set here to take the old system offline."
Steve Meyer was present to discuss drainage problems at 14 Draper Drive and the speed humps that the city put in recently. Meyer is dissatisfied with work done in the past to fix the drainage situation on his property.
"I live on the south side of Draper Drive; it's a cul de sac. When we get heavy rains, like just the other day, there's an issue with my drive. I've talked to BJ in year's past; the city fixes it and it lasts a little while. I want a permanent fix. My suggestion is that we get rid of all that asphalt and lower it down where it should be," he said.
Meyer said he wonders what he should do as he was willing to take the responsibility to pay for it and had even asked if he needed to get a permit to do it. "The engineer came out to look and said I couldn't fix it because it would compromise the road. But, it is already compromised."
Meyer said he feels his hands are tied for what he can and cannot do. "I want to know what I need to do to fix my problem. I am willing to pay for it, and I don't expect anything to be done for me, but I want you people to let me fix it. And I don't want a temporary fix."
He addressed Perry when he asked, "What can I do?" Perry told Meyer that he understands what the problem is and is willing to meet with him to determine a solution for a permanent fix. 
Meyer also wanted to express his thoughts about speed humps. "I first want to say that I have no problem with speed humps. I just don't think they serve what the intent is. Those people are still going too fast. I see no purpose in having two. I think if you're going to have two, one needs to be down by the car wash. They are just too close together. I think we need to improve it, not get rid of them." When Meyer asked why they were so close together, Perry told him, "We were addressing a speed issue through that intersection, mainly from the south side of the square. If you get them too far apart, you actually increase the speed in between them."  Meyer also said he feels that they aren't marked sufficiently. He feels that drivers need more warning because they come so quickly and at night the sign is hard to see. 
Mayor Peter Johnson thanked him for coming in and letting the council know his concerns, and the council will take his suggestions into consideration.
Sam Caldwell was next on the agenda to discuss sewer issues on his property. "I'm here because of the sewage issue at 604 Birch Street. Through the papers, I understand that American Rescue Plan funds have been set aside to divert storm drainage. That means this money is not going to be spent to prevent raw sewage from coming into my basement and others for what would now be the third time. I think the money should be spent to prevent raw sewage rather than sewer drainage, which is just run off water. I've spent an excess of $10,000 the last two instances in my basement. I don't expect to spend any more money because of your sewer issue. That sewer needs to be fixed before any storm drainage is taken care of." 
Caldwell asked for all the minutes from the June meetings as well as the pictures of the sewer that were published to keep with his records in case this happens again. Johnson said there were remedial actions taken on that sewer after Caldwell was in last year with the same concerns. Bryan Varellas, public works, described the work that was done before and wants Caldwell to understand that they are hearing his concerns.
Steve Gamber, former council member, asked if he could provide his insight. "The city has allocated funds to fix the storm water run off issue that that person created when they put a house and a baseball field in that location. It's been an ongoing issue. But we are putting a Band-Aid on the issue of raw sewage running through this town." He feels the city should be liable for negligence when it happens again and that it is unacceptable to allow it to continue. "When that pipe has an issue, it affects the whole town, not just someone's yard. It's wrong and totally irresponsible. Funds are diverted for the cosmetic look of a person's yard rather than the infrastructure of the entire town."
Brenda Benedict reminded Gamber that when he was on the council and the Birch Street situation was first introduced, he had commented, "There are better ways to spend the money than on six houses on Birch Street." Gamber defended his statement by telling Benedict that he has since learned that that line carries the whole town.
"That fact wasn't there at the time. You are spending $30,000 on a house and a ball field. That's ridiculous."
Riley Moreland, head of the city library, and fire chief, Craig Marshall, were not present to report for the library or fire department, respectively but had both included reports in the council packets. 
Vendor fees continued to be a contested topic at the council meetings. Tony Moyer, president of Gold Buckle Productions, puts on the Battle of the Bulls. Moyer expressed his frustration that vendor fees that go to the city must be collected by his committee. "We are trying to do something for this town, and we're getting bombarded with these vendor fees. We don't have time to go pick up vendor fees. It's my understanding that you went out to collect fees from the rodeo grounds and for Rodeo Days. When it comes up to our event, you want us to collect $20 for each of our vendors. In my opinion, we are not responsible for that. If you're going to do it for one event, you should do it for all."
Council member Ken Brown indicated it wasn't Moyer's committee's responsibility to collect. "We just want to get the application into the packet you send out." 
Moyer responded, "We have no problem with that. We just want the phone calls to stop, and we don't want to collect the money. If you can get us the forms, we'll put them in our packets. We're doing a good job bringing something to this town, for businesses and by bringing more things to our town. We don't want problems by doing so."
Council member Anne Travis, joining via audio, apologized to Moyer for the problems with the vendor fees and said the council will do a better job with communication. 
Johnson wrapped up the discussion by telling Moyer, "I was at your event; you do a good job. I also understand that you do a lot of charitable giving within the community. We appreciate your work, and we apologize for the frustration this has caused.  We don't want to make it inconvenient or harder to put on an event in our community. Our job is to make it easier so that your road is smooth to put on a successful event. That's how you develop a sustainable pattern of community events."
Council member Drew LeMaster again mentioned that the vendor fee situation needs to be reevaluated. Johnson agreed that the benefit of the small amount of money may not be worth the bad will created from all the problems associated with it.
In other business, motions were made and approved to:
Adopt Resolution 2021-38, a resolution establishing the American Relief Plan Capital Project Fund 303 
Accept the annual financial report for Fiscal Year Ending June 2021
Open the public hearing pertaining to the proposed Ordinance 237

An ordinance amending the Code of Ordinances by adding a new section limiting parking on a portion of Fletcher Street in Sidney, Iowa

Move forward with second reading of Ordinance 237 

Mayor Johnson read Ordinance 237

Close the public hearing 
Suspend the rules requiring Ordinance 237 to be read at a third public hearing
Adopt Ordinance 237 for final passage
Steve Gamber, former city council member, asked questions about the ordinance during the public comment period. "What are you gaining by limiting the parking on that street? Where is the safety concern?" 
Johnson deferred to Tim Lemrick, Sidney Schools transportation director, to explain. "What we've got going on is that we have residents that park on the south side of Fletcher Street. They park so far up the block that it prohibits our 2nd bus from getting up in there. He has to pull up, back up, and there are days where he can't even get in there and has to pull in at an angle. Then our 4th bus has to park way back and the students are wandering around trying to find their busses and going behind busses."
Gamber came back with, "It's supposed to be about safety. I am confused about what the safety issue is. There are four busses in the street and a guard stopping traffic from entering that street. You cannot travel there. If I get there early to leave for work, I can't get through. You should put them in a loading lane like they do everywhere else. Having cars parked there shouldn't make a difference in that. Except now your busses look a hair prettier in formation but are blocking the whole road. It shouldn't take the entire street."
Johnson responded to Gamber, "I believe it was a decision of clarity - rather than just this point to this point. That's why the decision was made to prohibit parking to the stop sign." 
The council approved to move forward with appointment for the vacancy of the council seat vacated by Lou Ann Kyle earlier this month. There was discussion as to whether there will be enough time to release the information publicly and provide time for those interested to respond. A date was set for the meeting on November 8, and the appointment will be made at that time. 
Brown brought up a new time clock policy and made a motion to adopt it. He's been in communication with the Iowa League of Cities and state officials and has been made aware that all city employees need to clock in and clock out electronically because handwritten hours are not considered legal. LeMaster disagrees because he feels the employee handbook is what guides procedure and it indicates that hours can be handwritten. "Why fix something that isn't necessarily broken? Why make changes? I know the main reason you're doing it is because of the weekend hours. I'm just not following your total reasoning." Brown responded, "We have been dinged in our audit and the auditor indicated that we need to use them. Yes, the time clock is used part of the time but not always during the evenings and weekends." 
After a bit of back and forth responses, Johnson said he believes this topic and information included in the council packets need to be reviewed for clerical mistakes and overall policy since this is the first time it's been brought before the council. "I feel it's going to take time to find what works best with our unique needs and existing procedures." 
Brown retracted his motion. No action could be taken. 
Next Brown told the council that a previous council member had discussed rearranging the council room and adding new tables. Brown included a picture of the tables in the council packet and displayed how the room would be rearranged to look more official. The tables are $120 a piece, and they would need to order 6 of them. "I brought this to the council for an introduction and discussion, not approval. We might be able to get more people in the council room at one time. It would also give us the possibility to Zoom or video conference the council meeting." LeMaster doesn't see the necessity of it. "If at some time we needed to readjust, we could readjust and possibly move BJ downstairs if we needed to to add more room. As far as spending more money on tables, it's my feeling that it is really not needed." Since it was a discussion item only, no action was taken.
Over the past several weeks, LeMaster has been searching for a projector, screen, speakers and other supplies needed for Family Movie Night he introduced to the council last month. "It doesn't appear that there is time to get something done yet this year. I would like to do it at least once or twice a month, on a Saturday night so we aren't interfering with anything else."  The council approved using Community Betterment funds to purchase equipment for Family Movie Night, not to exceed $2000.
Iowa Municipal Finance Officers Association Conference update

Both clerks brought back a lot information but wanted to specifically allude to council orientation information and how beneficial it would for new council members 

Municipal Leadership Academy Enrollment

The council members were given handouts and were encouraged everyone to take the courses

There will be a Comprehensive Plan meeting Wednesday, Nov. 3, at the Gathering Place at 6:00 p.m.
Varellas asked the council to approve snow push bits at a cost of $800 as they haven't been replaced for a couple of years. Motion was made and approved. 
Varellas also wanted to discuss changes made to the handbook. "I found some things that were a concern to myself and other employees. I've given you handouts from the League of Cities about leadership and preparing employment agreements. It is basically highlighting that it should be a team activity and that a council member only has the power when gathered as a group at an official council meeting." He feels the way the handbook was updated was not in a group setting by any means. "When I talked to individuals at the League of Cities, they were shocked that a document could be done and not brought forth to the department heads or even as a group and worked through so everyone had the best understanding of what was being done." Varellas said that he commented on concerns after seeing the first draft but there was no indication it was ever taken into consideration. "We never saw a rough draft, and I don't know if anyone else on the council ever saw a rough draft or was able to give input. They left employees out and left a lot of hardship." He also brought up concerns about work schedules, decisions that the mayor can make without input, and time keeping. Varellas brought his thoughts to a close, "I appreciate the time to let me voice my concerns, and I hope we can work together and get an answer for some changes. I hope we can discuss some of these things moving forward."
Johnson reminded the council that employees provide valuable information on council decisions and council actions and especially toward revisions of policies and procedures for the handbook. "We need to ensure that we work as a team. Everyone's input should be valued." 
Gamber had several issues during the public comment period. He is worried that the council is spending too much money and that they should be applying for grants. "Since I resigned from this council in June, you have spent $20,000 on things that include the park and now a movie night. Why is this council not applying for grants? These grants are out there, and it's ridiculous that you aren't applying for them. We weren't' spending that money before because everything we were wanting to do is going to be more expensive." Besides worrying that the council is 'blowing through community betterment money,' he feels that the council bites at every safety issue and that they are not worried about long term, just short term activities. 
Johnson thanked Gamber for his comments before adjourning the meeting. The next Sidney City Council meeting will be Nov. 8.