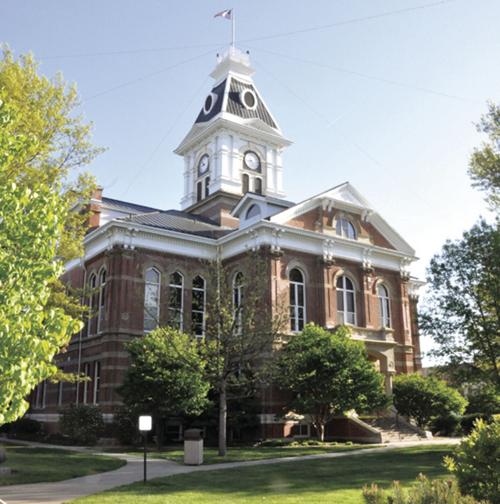 In an effort to draft a solar ordinance before the end of the year, the Page County Board of Supervisors conducted a second work session Nov. 23 on the matter.
The board held its initial work session Oct. 26. Based on the discussion that took place Tuesday, another work session was scheduled for Dec. 7.
"If we're going to end up with a solar ordinance in Page County, (let's be sure) that we are ready to propose one by the end of the year," Supervisor Chairperson Chuck Morris said.
During the initial work session the board reviewed ordinances established by various other counties in Page County dealing with solar energy projects. One of the key points of discussion at that time was current zoning regulations related to the height of developments in the county.
Some of the initial ordinances the board reviewed set a height limitation of 15-feet. Page County Zoning Administrator J.D. King, however, felt that height may be too low.
King said the zoning manual for Page County allows for structures up to two and one-half stories or 35 feet. Beyond that, the individual must request a waiver from the Board of Adjustment.
Since Page County held its first work session, Montgomery County has adopted a solar ordinance. Supervisor Alan Armstrong said Montgomery County had set a height limit of 20 feet, but still questioned if that was too low.
"We have identified height as a question, so let's do a little more research on the height," Morris said.
Supervisor Jacob Holmes also informed the board that Madison County had approved a solar ordinance. Holmes said he particularly liked the section of that ordinance dealing with the process of decommissioning solar projects.
"The decommissioning plan there is well thought out," Holmes said.
Another issue Armstrong said Page County may want to consider is creating regulations for locating underground tile lines and underground cables buried more than four feet below ground level. Armstrong said he was not sure if other counties had addressed this issue in their solar ordinances.
Morris said Page County also needed to identify who would be responsible for the enforcement of a county solar ordinance. He said that responsibility could fall to the Zoning Board, the Board of both entities.
However, Morris felt it would be a bad idea to give authority to two different boards because it could lead to contention. Armstrong felt a solar ordinance should fall under the jurisdiction of the Zoning Board.
Based on the discussions Tuesday, the board agreed to do further research on height limitations; the line of authority; the decommissioning process; setbacks and electric or tile tracing before the next work session on Dec. 7.
In other business Tuesday, the board approved a tax abatement of $222 requested by the city of Shenandoah for a property located at 510 Tassa St. in Shenandoah. The board also approved a resolution to create a workforce development chief elected official consortium.
A request from Sonrisers Popcorn in Clarinda to use a portion of the courthouse lawn to set up a booth Nov. 26 during the Lighted Christmas Parade was also approved.