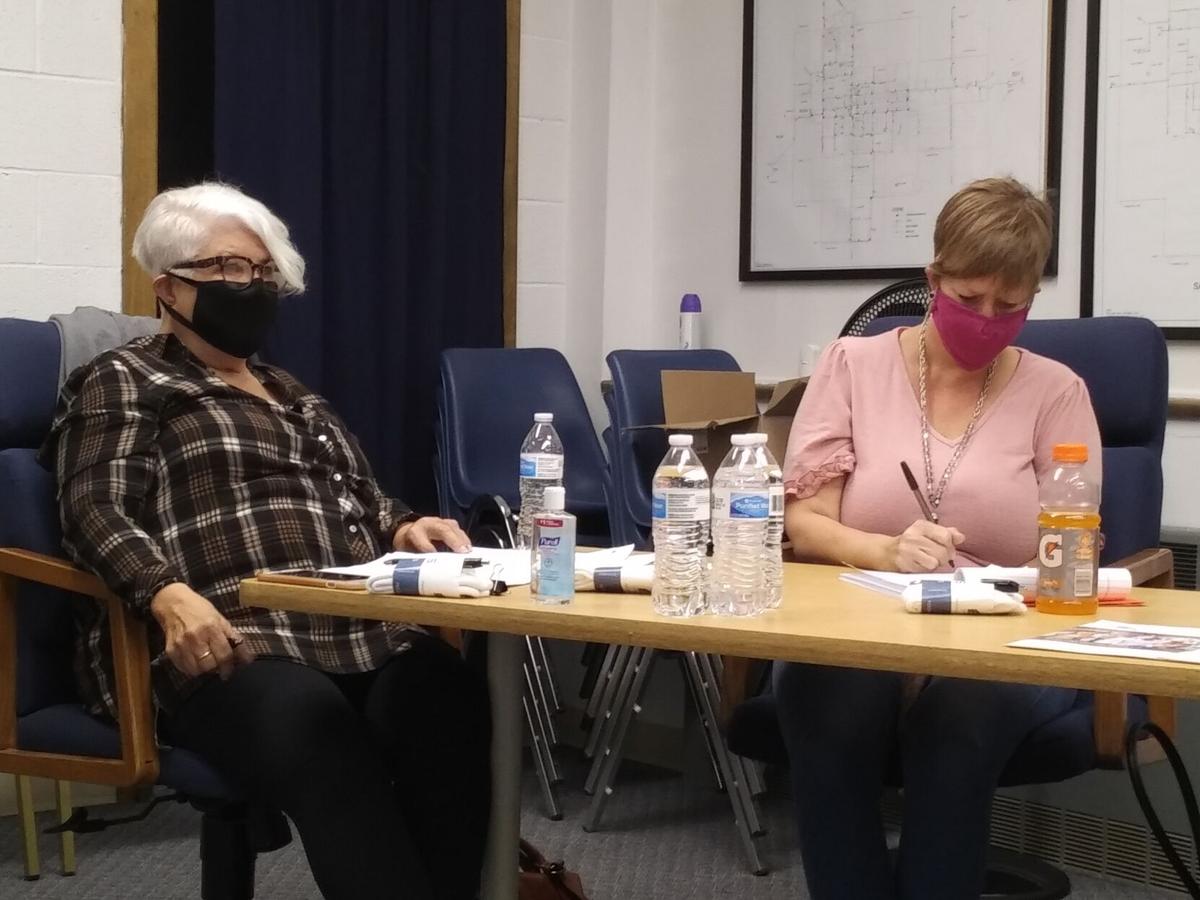 John McCurdy of Southwest Iowa Planning Council spoke with the Sidney City Council on Sept. 28 about building inspection services offered by SWIPCO.
McCurdy told the council SWIPCO had two staff members who were qualified to do building inspections to international building code standards, and cost for something like inspection of a dangerous property was $55 per hour, with a usual time of four to five hours.
McCurdy said there were three basic types of inspections needed by a city:
• Dangerous buildings - the city can condemn properties that are deemed dangerous, and an inspection often shortens the time the legal process to do so takes;
• New construction-some cities don't do this because they don't want to discourage development, but they are doing their citizens a disservice if they don't, and possibly kicking a problem further down the road; and
• Rental inspections and owner occupied inspections-rental inspections protect both the landlord and the tenant, and owner-occupied inspections are generally for use when an outstanding health and safety hazard appears to be present.
McCurdy stressed that SWIPCO recognized there was limited housing in the region, and the goal of an inspection program was not to enforce those present into closing their doors forever.
"We want to keep the housing we have," McCurdy clarified, "and help them get into compliance."
Council member Steve Gamber, himself a landlord, told McCurdy he could see landlords feeling attacked by an inspection program, and additional fees and costs associated with such a program. Gamber said he thought an inspection program would eliminate some of the rental properties in town.
Gamber questioned how SWIPCO could get into his rental property to inspect, if he was dead set against it. McCurdy explained the city would have to have groundwork in place, including ordinances and a landlord/rental property registration process. Then he said the city should communicate with the landlords and give them time to prepare their properties, then set up inspections. McCurdy indicated some towns liked to follow a three year cycle for their inspections, with smaller towns possibly doing all the indicated properties once every three years, and larger towns doing them in sections each year.
Gamber was still unenthusiastic about the idea, but council members Anne Travis and Lou Ann Kyle asked to hold some kind of informational meeting for landlords, the zoning board and others to come listen to McCurdy talk about the program. Travis and Kyle will head a committee to research the matter further.
Sidney Engineer Steve Perry updated the council on progress on the water project.
Perry said water tower bids would be taken Oct. 12 by 6 p.m., and the council could take action on the bids that night if they chose to do so. The council discussed the need to get an additional 60 foot by 60 foot exclusion on the land lease right next to the current water tower.
Perry said the transmission main project couldn't be completed until the well and treatment plant portions were done. The floor in the detention basin of the treatment plant was being poured, and the second well was drilled and a sample tested. Once done, pumps and motors could be ordered based on the capacity of the two wells. The construction company had requested and the council approved a completion extension to Feb. 10 for the ordering and delivery of pumps.
Council members continued argument about hiring a part-time city worker. Gamber brought the subject back up from the last meeting, and council person Anne Travis asked for an exact amount of budget increase needed for this additional staff member, including IPERS. B.J. Varellas said there was no change to the budget because they had always had extra help in the winter, but Travis wanted numbers and said she would be asked questions by the citizens, as would the rest of the council, and they should know the answers.
Varellas said it would be $1,200 per month at 20 hours per week, or $14,400 per year. Deputy clerk Brenda Benedict said it would be an additional $56 per month for IPERS, or $672 per year. Travis wanted to know about work comp numbers. Varellas and Gamber expressed frustration that Travis was asking all these questions during the council meeting, and Varellas said she could have asked the clerks to have all these numbers ready for the meeting instead of putting everyone on the spot making it feel like an attack on the agenda.
As tempers flared, Mayor Peter Johnson agreed in future such questions should be forwarded in advance, and said his email was always open. Travis argued that he doesn't answer emails.
As the meeting deteriorated again, Gamber made a motion to hire a part-time person for up to 20 hours per week, and Travis made a motion to table the matter again. Gamber's motion took precedence and a vote was taken, ending with three in favor of hiring the help, and Travis and Kyle voting against.
In other business, the council:
• discussed and tabled a potential new uniform policy that would have had the city paying up to $700 for worker clothing;
• approved the purchase of a file server and file server security;
• approved an update of Sidney's Code of Ordinances from 2010 to 2020 versions at a cost of about $4,000;
• approved Service Line Warranty mailings going out to citizens, and
• approved a resolution to request $24,000 for COVID-19 expense reimbursement, with Travis abstaining as she wanted what would be reimbursed defined before approval.
Be the first to know
Get local news delivered to your inbox!