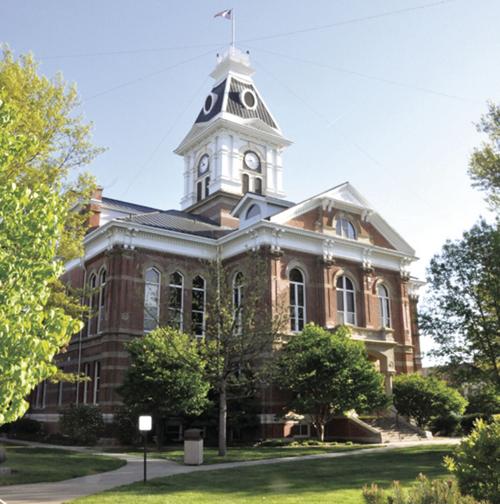 A request for a county-sponsored meeting turned into a heated discussion during the Nov. 10 Page County Board of Supervisors meeting.
Jesse Stimson began by formally requesting the Board of Supervisors reconsider holding a county-sponsored meeting for the public that would provide information on non-participating landowners property rights in regards to wind turbines. Also speaking on the matter were Ryan Urkoski and Kalen Fulk. All three have consistently disagreed with the county's wind turbine ordinance and having wind turbines placed in the county.
Stimson said the push for the county to hold a non-participating landowner property rights forum was so the public could compare both sides equally.
On Oct. 13, Supervisor Chair Chuck Morris moderated a virtual panel event, "Wind Energy: A Powerhouse for Iowa Communities" hosted by Power Up Iowa, which was posted on the county website. However, the county was not able to post a meeting on non-participating landowner property rights on the county website that was held over the summer because it was not a government-sponsored meeting.
"So we kinda felt like it wasn't really fair and people weren't' getting the full picture," said Stimson. "If you guys aren't willing to represent both sides, then it kinda seems like in a way that you guys are only willing to show the one side because that's what you really want. I just think it would be better for the public to be able to see both sides and to see the board of supervisors are willing to share both sides."
Urkoski then took the podium, asking when the supervisors planned to discuss holding an information meeting on the non-participating landowner property rights.
"Again, the three of you sit here and lie to the public, stating that the '19 ordinance was put in place because we had no protection," said Urkoski. "The '19 ordinance was written to favor wind production and run over the non-participating landowner."
The supervisors approved a wind turbine ordinance in October 2019.
Urkoski said Stimson had asked when the supervisors would decide on holding a nonparticipating landowner property rights forum during the Oct. 27 board of supervisors meeting and was told by Herzberg and Morris that it couldn't be discussed because it was not on the agenda.
Urkoski went on to say he could not find approval on any agenda for the Oct. 13 forum that was hosted by Power Up Iowa.
"If you couldn't make a decision at the meeting on the 27th when asked by Stimson because you stated it was not on the agenda when did you discuss and approve your wind infomercial meeting," Urkoski asked
Supervisor Jon Herzberg indicated that it's not the government's position to decide who puts up wind turbines that it is a landowner's decision.
"How come the public had to have the meeting anti and you, you and you (talking to Morris, Alan Armstrong, and Herzberg) put on the pro meeting, the infomercial?" asked Fulk. "That was nothing but an infomercial for wind."
"That's your opinion," said Morris.
"You put it on as the government. You guys are the board of supervisors. You put that meeting on as the government. You tell me that it's not the government's responsibility," Fulk said.
As Morris pounded the gavel he told Fulk to "cool down."
Armstrong motioned to approve a request for a supervisor-sponsored meeting. Herzberg seconded the motion.
Morris reiterated the board of supervisors are currently trying to figure out COVID mitigation and other county issues.
"Jon's going to be retiring," said Morris. "We'll have a new board member who's seated here today. With that in mind, we'll be headlong into budgets immediately into the new year and new board. I believe that we have more pressing matters than to spend more time and energy to organize a meeting."
All three supervisors voted no on holding a non-participating land rights forum.
Be the first to know
Get local news delivered to your inbox!