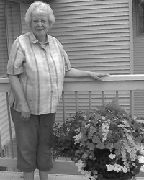 Joanne Shaw Andersen Brown 1926-2020 Did you feel it? The tectonic plates moved just a bit. On April 25, 2020 the quick wit and snarky observational humor of Joanne Shaw Andersen Brown was silenced after a brief bout with strokes. The master seamstress, quilter and avid reader was known to most as Mrs. Andersen, Junior High School Home Economics teacher. For 26 years in Shenandoah, Iowa, Mrs. Andersen taught thousands of young women (and later young men as well) how to cook without burning down the kitchen and sew without bloodshed. Joanne Shaw was born in Shenandoah, Iowa on July 10, 1926 to Boyd and Meadie Shaw. She was a member of the Shenandoah Class of 1944. She attended Iowa State University for two years before transferring to the University of Nebraska where she graduated with a degree in Home Economics and a minor in General Science. Her first teaching assignment was in northwest Iowa. While there she met Carl Andersen, who was working on his uncle's farm after WW II. They soon married, and a year later had daughter Janis. Missing her roots in Shenandoah the young couple moved back and had 2 more children, Dan and Barb. Joanne lived in Shen until 2012 when she moved to a retirement community in Indianola, Iowa with her new husband and fellow member of the class of 1944, Dr. Robert Grover Brown. She and Grover lived peacefully there until her death. Joanne is survived by children, Janis Faller (Jeff) of Lincoln, NE, Dan Andersen of Tacoma, WA and Barb Andersen Rogers (John) of Omaha, NE; grandchildren, Alyssa Carlson (Shawn) and Andy Faller (Kiley); five great-grandchildren, Owynn and Ezra Carlson and Russo, Fitz and Foster Faller; brother and sister- in-law, Dave and Pat Shaw; and four nieces and nephews. Grover, her husband of 8 years, still resides in Indianola. No services are scheduled. In lieu of flowers, donations may be given to your local food bank or first responder's in Joanne's name. To submit an online condolence, visit our website at www.overtonfunerals.com.
Obituaries Newsletter
Sign up to get the most recent local obituaries delivered to your inbox.