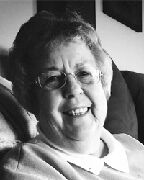 Sherry E. Dickerson 1940 - 2020 Sherry Dickerson, 80, of Boone, IA and formerly of Shenandoah and Massena, IA, entered into rest on Saturday, September 12, 2020 after a courageous battle with cancer. Visitation with the family will be held from 5:00 p.m. to 7:00 p.m. Friday, September 18, 2020 at Steen Funeral Home in Massena. A Celebration of Life memorial service will be held at 11:00 a.m. Saturday, September 19, 2020 at the Nishna Valley Funeral Home in Shenandoah with Pastor Jack Langley officiating. Visitation with the family will be held one hour prior to the service from 10:00 to 11:00 a.m. Burial will be held at a later date. Sherry Elaine Dickerson, daughter of Shelby and Elizabeth Luehring Bertram, was born February 14, 1940 in Shenandoah. She graduated from Shenandoah High School in 1958. On October 19, 1958 Sherry was united in marriage to Dean Roy Dickerson at the First Baptist Church in Shenandoah. Prior to moving to Massena she had many different careers. One of Sherry's greatest honors was being a military wife for over 20 years before moving to Massena to be closer to her sister. Sherry was the Office Manager and Senior Personnel Specialist where she played an integral role in developing agriCAREERS in the Massena office. She moved to Boone in August 2019 to be closer to her daughters and grandchildren. Sherry enjoyed spending time with her grandchildren, baking and bird watching. She is survived by her daughters and their families, Tracy Dickerson, Webster City; Angie and Jeff Smart of Highland, IL and their children Zaine, Hayden, Joseph and Vincent; Shelby and Tony Hildreth of Ogden and their children Jacob and Josie; sister, Shirley Kerkmann of Massena and many extended family and friends. Sherry was preceded in death by her husband, Dean in 2009; her parents, Shelby and Elizabeth Bertram and brother, Larry Bertram. The family would like to thank Mary Greely Hospice, Dr. Prow, and Foster Funeral Home for all their time, kindness, and respect that they have shown to our Mom and our family during this difficult time. Memorial contributions may be made in Sherry's name to the Shenandoah Marching Band Department. Professional services entrusted toNishna Valley Funeral and Cremation Service in Shenandoah. Remembrances and condolences may be shared with the family at: swimemorial.com on the web.
Obituaries Newsletter
Sign up to get the most recent local obituaries delivered to your inbox.