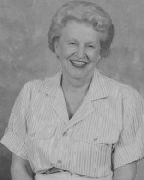 Elaine Snyder 1924-2020 Beth Elaine Mackoy Snyder was born January 11, 1924, in the Locust Grove Township of Fremont County, the third of four daughters born to Joseph Beryl and Gladys Hall Mackoy. She developed a life-long love for the farm and all the life that springs from it. Elaine belonged to the PEO Sisterhood and the Shenandoah First United Methodist Church. She graduated from Shenandoah High School in 1941 and immediately joined her beloved, Clarence L. Snyder, Jr., whom she married on September 12, 1941, on the West Coast, for military training preceding Junior's deployment to the Pacific Theater of WWII. Elaine and Junior returned to southwest Iowa following the war and began their successful and long-lasting professional journey in the car dealership businessthe Snyder Motor Companyfrom 1946-1969. Elaine monitored the accounting and financial books and Junior charmed the customers. Together, they made lifelong friends and traveled the world. Among the many roles in which she excelled, Elaine was the consummate hostess, treating family and friends to wonderful celebrations and warmly elaborate dinner parties. She generously opened her homes in Shenandoah and Scottsdale, making every guest feel welcome and valued, with a smile, a touch of the arm, and invitation to share stories about life's adventures. Elaine remembered birthdays and anniversaries of numerous nieces and nephews and her vibrant spirit and kind, loving soul made her shine so brightly. Elaine was preceded in death by her husband of 71 years, sisters Josephine Beryl Mackoy Evans, Mildred Marguerite Mackoy Teachout and Virginia Mackoy Trautmann, and niece Sherry Teachout Glenn. Elaine is survived by her nieces Holly Evans (Al) Krabbenhoeft of Portage, IN, and Julie Trautmann (Jack) Cooper of Worcester, MA, and nephews David (Carol) Evans of Escanaba, MI, and Harold "Mack" (Carolyn Gilbert) Teachout of Farragut, IA, along with grandnieces Abby Cooper (Johnny) Skaff and Erin (Greg) Feldmann, and grandnephews Kris Krabbenhoeft, Aaron Krabbenhoeft, Jeremy (Jennifer) Glenn, and Brandon (Miranda Huseth) Teachout. Private Services were held on Wednesday, March 11, 2020 at the Rose Hill Cemetery with Staci L. Shearer offering the words of committal. In lieu of flowers memorials may be sent to the funeral home and directed towards the Shenandoah Public Library. Remembrances and condolences may be shared with the family at www.hackettlivingston.com. Hackett-Livingston Funeral Home was entrusted with the arrangements.
Obituaries Newsletter
Sign up to get the most recent local obituaries delivered to your inbox.