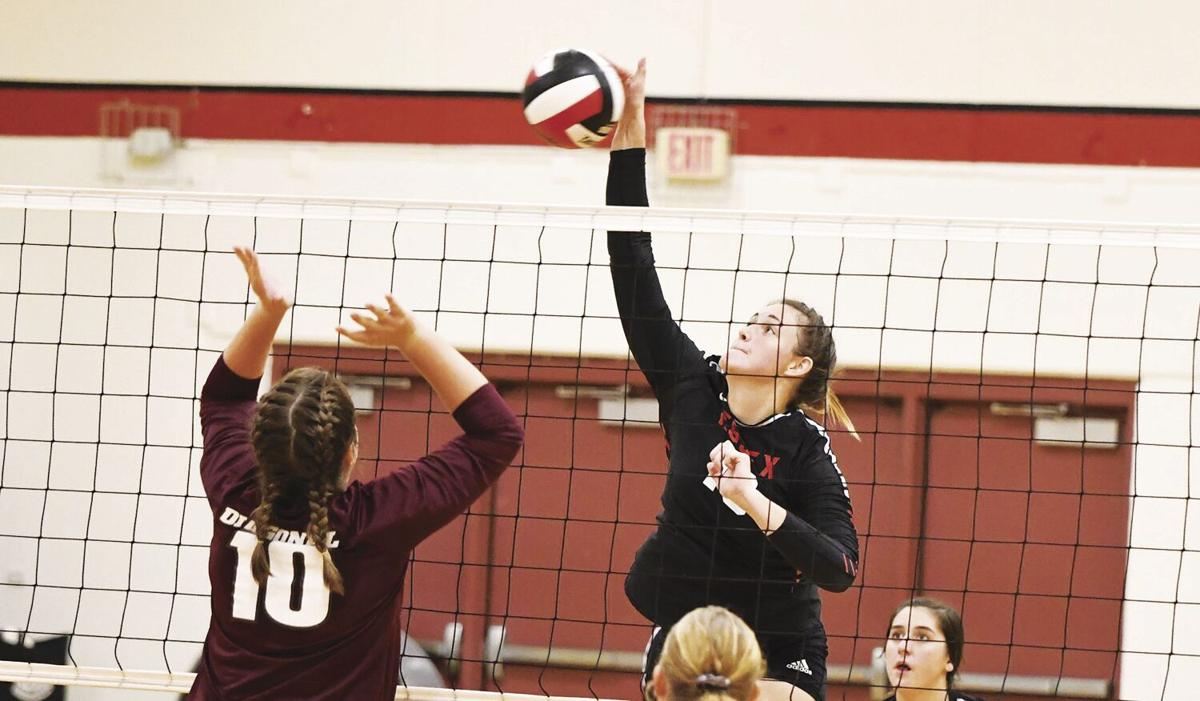 ESSEX – The Essex Trojanettes earned their first win of the season in convincing fashion, Monday, Sept. 14, with a 3-0 win over Diagonal on Senior Night.
Game scores were 25-9, 25-13 and 25-20.
Seniors Helen Nicholas, Elise Dailey and Sami York see quite a bit of time in most matches for the Trojanettes. The fourth senior on the team, Elizabeth Baker, stayed in on the front row during the entire first set and saw some action late in the match as well. Baker had six swings, second most on the team, and earned one kill.
Essex head coach Allen Stuart said it was good for the girls to earn that first victory, especially on senior night.
"It's always nice to be able to be successful," said Stuart. "There were times we played really well and covered well. I'm glad we got to play a lot of people because most of the time you don't."
Stuart played 16 athletes over the course of the match. The final six on the floor to end the match all had little, if any, varsity experience entering the match.
"In 40 years that I have been watching varsity volleyball," said Stuart. "I have seen teams win 25-0, 25-0 and not sub and I have never understood that. Let people play, so I'm glad they got to play because there will be matches they won't get to and they understand that."
The Trojanettes used a 6-0 run to take control of the opening set early. A 9-0 spurt brought the lead to 23-7.
Diagonal stayed close for a while in the second set with Essex leading 12-11, but the Trojanettes scored 12 of the next 13 to win by a comfortable margin.
Stuart started subbing about every point late in the third set with his team leading by as much as 20-7 and 23-10.
Elise Dailey led the offense with six kills. She did that on 15 swings with three errors and Stuart said that was one of the best hitting nights she has had.
Riley Jensen added two kills.
Dailey also led the team defensively with three digs and two blocks. Brianne Johnson and Brooke Burns added two blocks each.
Stuart said the defensive part of the game is key for the Trojanettes going forward.
"Our passing is really bad," said Stuart. "We work on it every day in practice and we'll keep plugging away. The problem is while we're getting better at it, everybody else is too so the gap doesn't close."
The Trojanettes were 88 percent from the service line with 21 aces, including nine from Hailee Barrett. Johnson added three aces while Dailey, Jensen, Emma Barrett and Cindy Swain all had two.
Stuart liked what he saw on the service line from his main rotation.
Essex improved to 1-9 and plays at home again Monday, Sept. 21, against Heartland Christian.
Be the first to know
Get local news delivered to your inbox!