IOWA CITY – Throughout his wrestling career at Iowa, Spencer Lee has always considered himself to be a starter.
This weekend, the Hawkeye senior has a chance to be a finisher.
The three-time NCAA champion at 125 pounds will attempt to become the first wrestler in Iowa history to win four NCAA titles and with Cornell's Yianni Diakomihalis chasing the same objective this weekend, just the fifth or sixth from any program to accomplish a true rarity in the sport.
That carrot has been in front of Lee since he won his first NCAA championship in 2018.
"I definitely have thought about it,'' Lee said. "Like I've said before, this would be the first goal I ever accomplished in my life. It would mean a lot to me, but the thing is I haven't done it yet. It is a tough tournament, and I have to be ready to go.''
That's where Lee's focus has been since earning his third Big Ten title two weeks ago at Michigan, where Lee joined Mark Ironside as the only Hawkeyes to be named the Big Ten wrestler of the year three times.
He'll take the mat at the BOK Center in Tulsa, Okla., on Thursday with a 17-0 record on the season with nine victories over ranked opponents and 11 wins over other wrestlers in the 125-pound bracket.
Lee has won his last 55 matches and as he prepares to begin his NCAA run with a match against the winner of a pigtail round match between Tanner Jordan of South Dakota State and Tucker Owens of Air Force, Lee is taking it all in stride.
Iowa coach Tom Brands considers that to be one of Lee's strengths.
He said Monday the Lee he has watched in the wrestling room at Carver-Hawkeye Arena in recent days has been the same wrestler he has watched train since arriving at Iowa from Murraysville, Pa., in the fall of 2017.
"He's the same, very steady. I think Spencer is a cool cucumber. I think he is very cool under fire. I think he naturally has a knack for moving onto the next thing right away,'' Brands said.
That, Brands said, is a strength of a competitor who has built a 95-5 career record and could reach 100 victories if he makes it to the top of the podium on Saturday night.
"Not to say there hasn't been frustration, but he handles it well and he can move on quick. That's a pretty good ingredient for great athletes, being able to move forward after a negative result or if there is frustration,'' Brands said.
"Maybe you go off the rails a little bit, but you can bring it back quick and get it going back in the right direction.''
Things have been headed that way since Lee returned to the mat this season after sitting out a year ago to have torn anterior cruciate ligaments repaired on both knees.
Of his 17 wins this season, Lee has collected bonus points in 15. His resume includes eight pins, four technical falls and three major decisions.
Lee has typically enjoyed his leadoff spot in the Hawkeye battering order, an opportunity to start things off quickly and one of the reasons he loves that Iowa traditionally does not draw to determine the starting weights for dual competition.
"My focus has always been on getting the team off to a good start,'' Lee said. "I've always tried to set the tone when I come out. The '25 pounders at Iowa have always helped do that and I like being the first one out. I see that as my job and hopefully future guys at '25 will look to do the same thing, come out and be an igniter.''
Lee was igniting a passion in the Hawkeye fan base even before he arrived in Iowa City.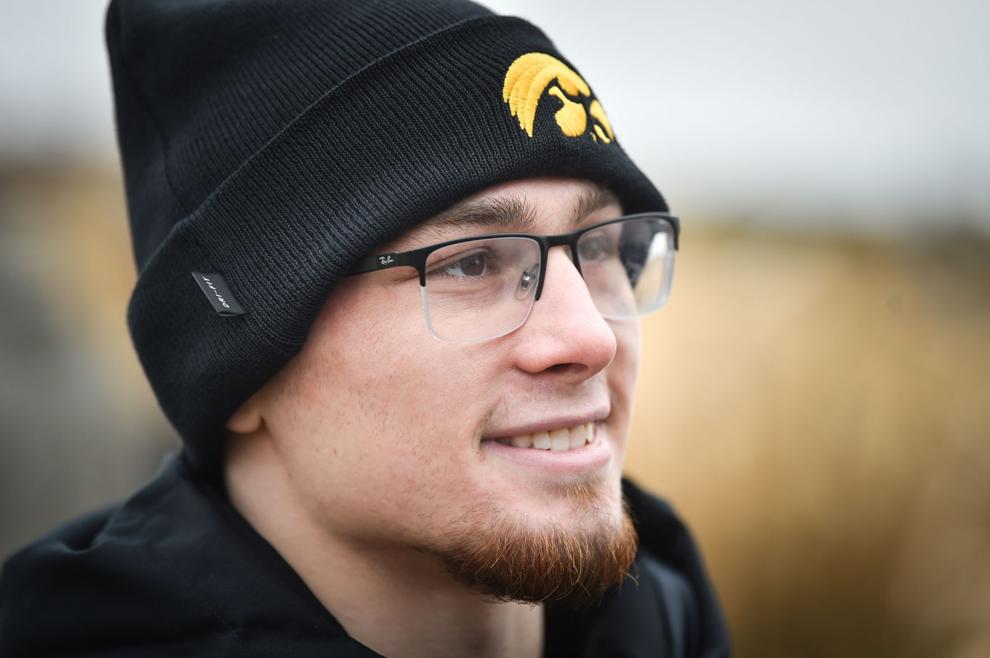 A two-time junior world champion before wrestling his first match for Iowa, Lee has embraced the attention he has received in addition to dealing with both the expectations of fans and those he put on himself.
Brands recalled a story he heard recently about someone asking Lee if he had ever sought autographs from his favorite wrestlers when he was a young kid.
"He said, 'Heck no.' He was like, 'I know I'm going to retire those guys' or he knew he was going to be better than those guys or that he was going to redefine the entire sport of wrestling,'' Brands said. "I'll tell you what, that's a pretty good way to march.''
Brands believes Lee's teammates have learned as they have watched and listened to Lee over time.
"I think they tune in, pay attention and listen,'' Brands said. "I think it is natural when the results are there.''
Lee will continue to let his actions speak for themselves one last weekend in a six-year college career that he says has gone by much too quickly.
"It has been really fun. It is super exciting to be a Hawkeye. I'm thankful for my time here. I plan on sticking around. I'm not leaving. I will still be a Hawkeye, just in name and the past,'' Lee said.
"It will be a different role, a mentorship role rather than a selfish role that I've been in the last five, six years. I'm excited for that, too, but I've got to get there first.''