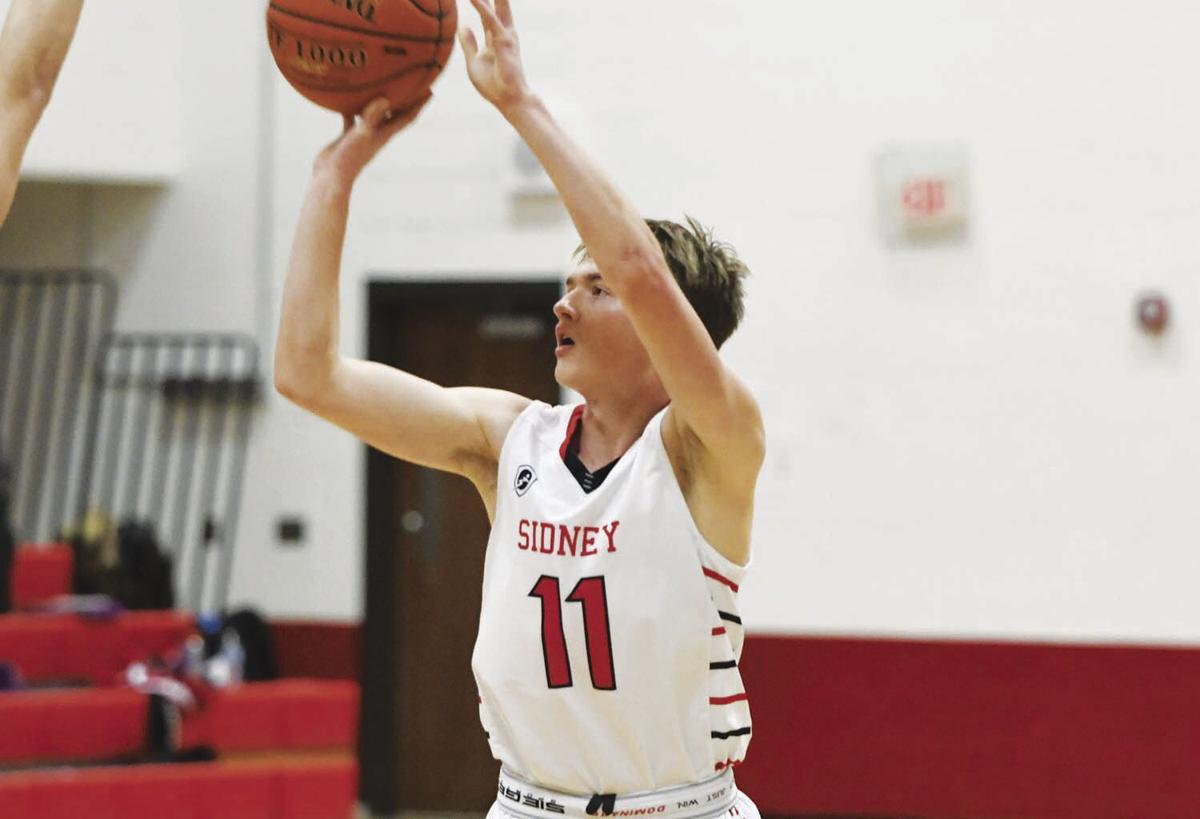 The Sidney Cowboys scored 30 points in the second quarter, made 12 3-pointers on the night and had 10 different players score in a 75-42 win over Griswold Tuesday, Jan. 19, in a pool play game of the Corner Conference Tournament.
Sidney's lead was just 14-9 after the first quarter, but a Cowboy press helped extend the advantage to 44-22 by halftime.
Cole Jorgenson made five of the Cowboy triples to lead the team with 20 points. Kyle Beam added 13 points off the bench while Garett Phillips also reached double figures with 10 points.
Conner Behrends scored nine points for Sidney. Cole Stenzel finished with five, while Leighton Whipple, Matthew Benedict and Nik Peters all had four.
Sidney head coach Kent Larsen said it was good to have Whipple back in the lineup.
"He had some really good assists and always plays great defense," Larsen said on Whipple.
Zavier Hyde and Taylor McFail scored three points each for the Cowboys, who improved to 6-4 on the season.
Kamron Brownlee led Griswold with 18 points. The Tigers were eliminated from the conference tournament with the loss and fell to 3-10 on the season.
Sidney hosts Stanton Thursday with the winner advancing to Saturday's Corner Conference Tournament final at East Mills.
The Sidney Cowgirls gradually pulled away from Griswold Tuesday, Jan. 19, in their home gym.
The Cowgirls won 57-33 to eliminate the Tigers from the Corner Conference Tournament and clinch themselves a spot in one of the championship night games Friday.
The Cowgirls will now play East Mills Wednesday to determine if they will play in the championship game or the consolation game Friday at Fremont-Mills High School.
Sidney led Griswold 12-7 after the first quarter, 25-15 at halftime and 42-27 after the third period.
Chay Ward led Sidney's offense with 20 points and also contributed in several other areas, finishing with six rebounds, five assists and four steals.
Avery Dowling chipped in 18 points and also had four assists for Sidney. Ward and Dowling combined to make seven 3-pointers.
Sidney's Makenna Laumann also found double figures with 13 points. She also contributed four rebounds, four assists and three steals.
Harley Spurlock, Alexis Massey and Aunika Hayes all scored two points for the Cowgirls, who improved to 7-5 on the season. Spurlock also had four rebounds.
McKenna Wiechman led Griswold with nine points. The Tigers fell to 3-10 overall.