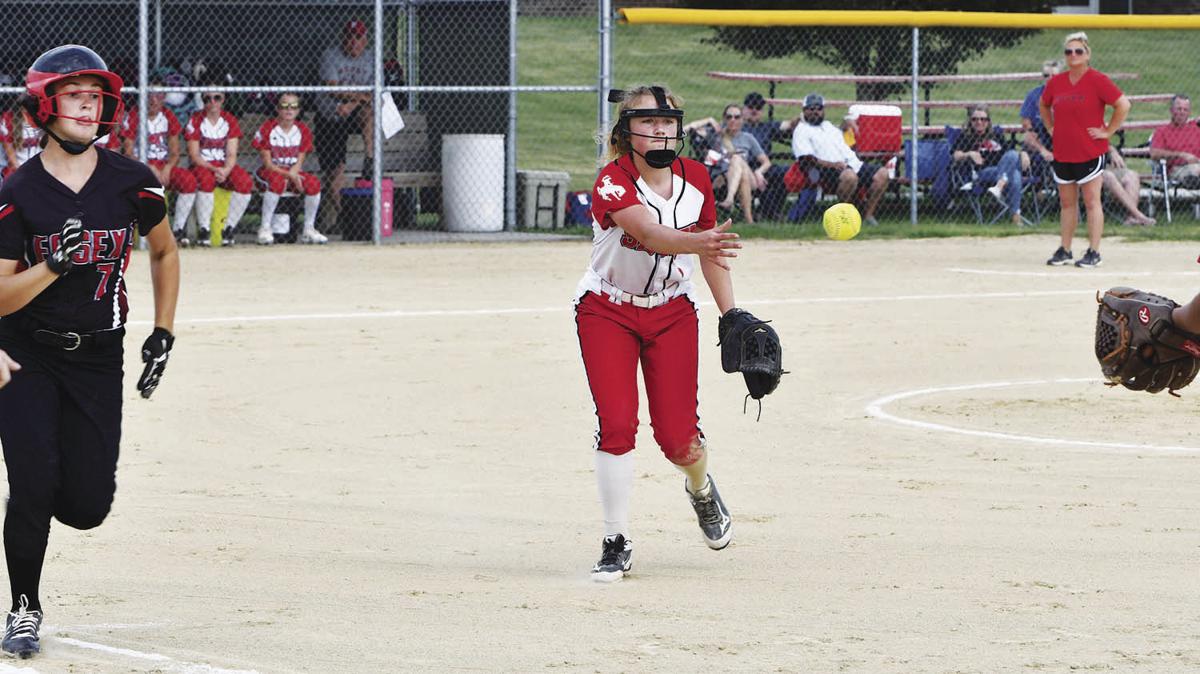 ESSEX – The Sidney Cowgirls scored nine runs in the final two innings to turn a tie game into a comfortable 14-6 win over Essex, Monday, June 29.
The win moves Sidney to 3-1 in the Corner Conference and within one win of sharing the Corner Conference's regular season title.
Essex scored a pair of runs in the home fifth to tie the game at five, but then the Cowgirls responded.
"I told my girls there are two innings left and you're playing for a conference championship," Sidney head coach Kent Larsen said. "How bad do you want it? And we responded like we normally do and found a way."
The Cowgirls had runners on first and second and nobody out to start the sixth inning when Fallon Sheldon laid down a perfect bunt down the third base line to load the bases. Harley Spurlock walked to force in a run and Essex head coach Kim Burns brought Elise Dailey into pitch for Tori Burns, who had a strong performance.
"Tori was very consistent," Coach Burns said. "She was strong through the fifth inning, but she was throwing a few more balls and that's why I took her out. Otherwise, she had a very strong night."
Dailey forced Olivia Larsen into a comebacker and threw out the lead runner at home for the first out. Another walk followed and then Danica Laumann and Lily Kingsolver both had two-run singles and the Cowgirls led 11-5. Dailey retired the next two Sidney batters, but the damage had been done.
"We found a way to win," Coach Larsen said. "We had a couple girls come up in big situations."
The first three Cowgirls reached base in the seventh inning on a walk, a single and an error. All three scored to get Sidney to 14. Coach Burns said her girls played well, but it came down to one big inning.
"They started hitting it well," said Burns, "and a couple errors on our defense and they got us down."
Larsen walked to start the game, stole second and then scored on Jolie Sheldon's fly out to deep center.
Singles by Sami York and Elise Dailey started the Trojanette second inning. They scored the first two Essex runs on a groundout and an error.
Sidney jumped in front 5-2 in the third inning on two hits and two Trojanette errors. Larsen, Laumann, Kingsolver and Sidnie Baier all drove in runs.
Dailey drove in a run on a groundout in the home third, and then Essex scored two in the fifth with Dailey driving in another with a single.
"Our hitting is improving every time we step out," Coach Burns said. "We didn't shy away and went after it. We got on base and were aggressive."
Dailey, Brianne Johnson and Tori Burns all had two hits to lead the Trojanettes, who fell to 0-6 on the season and 0-4 in the Corner Conference.