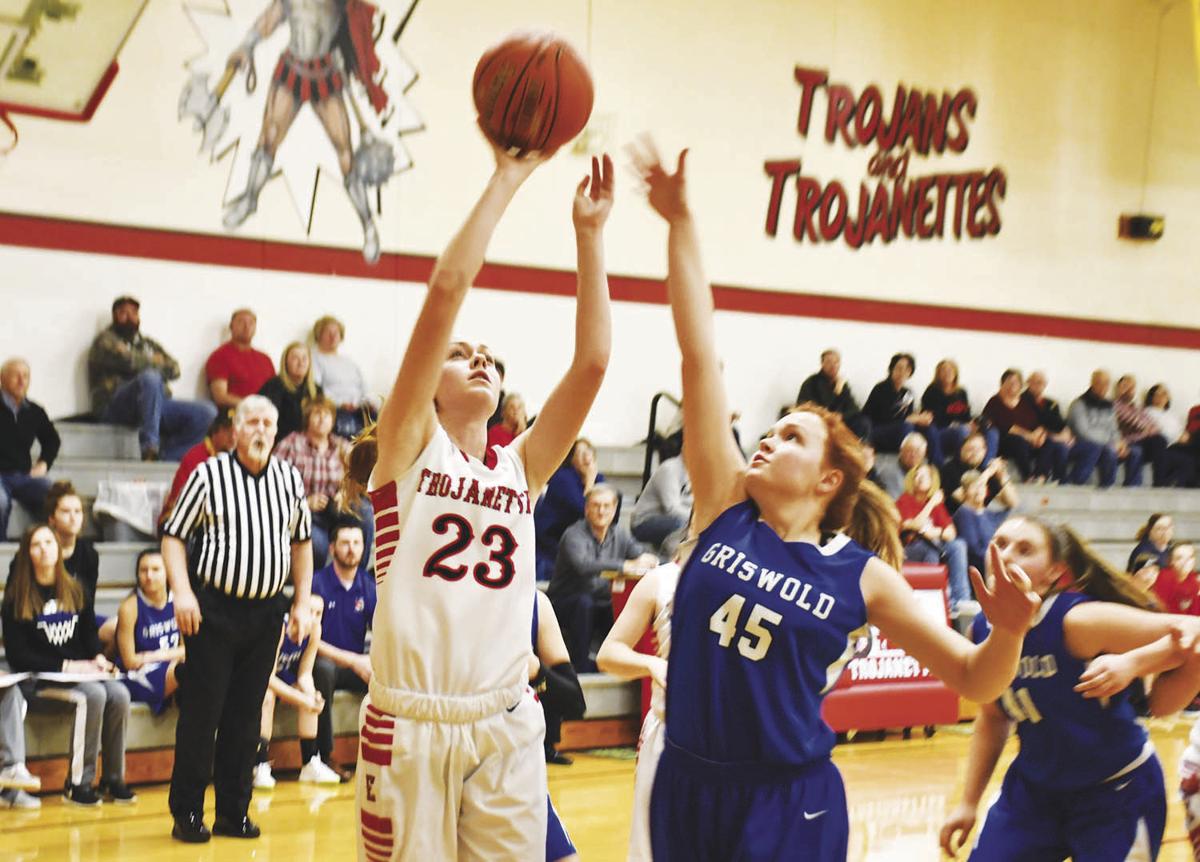 ESSEX - The Essex Trojanettes completed the regular season with their second straight win, Tuesday, Feb. 11, beating Griswold 38-32.
Elise Dailey led the Trojanettes with 12 points. Riley Jensen added 10 and Brianne Johnson scored nine.
A night after giving up a season-low 43 points to Heartland Christian in their first win of the season, the Trojanettes won their second straight and dropped that season-low defensive output by 11.
Trojanettes head coach Rob Erickson put Jensen on Griswold leading scorer McKenna Wiechman in a box-and-one defense for most of the game and Wiechman only tallied four points.
"Riley did a super job on their top girl and held her down," said Erickson, "and we were able to fastbreak from that defense. We let them inside a couple times, but we controlled the boards mostly."
Essex jumped out to a 10-3 lead in the opening period and never trailed during the game. Dailey and Sami York did a good job inside, and corralled several offensive rebounds.
"We were in good position," said Erickson, "and we were moving a little better in the first half. We got a little tired in the second half, but I am really proud of the girls."
Essex led 10-5 after the first quarter and 18-14 at halftime. Jensen and Dailey combined to score all but one of Essex's third quarter points as the Trojanettes built the lead as high as 10.
Griswold was as close as six late in the third quarter, but free throws by York, Jensen and Johnson extended the lead back to nine three minutes into the final period. Griswold again climbed to within six on a Brenna Rossell field goal with 1:48 to go, but layups by Dailey and Johnson built the advantage back to 10 with one minute left.
The win was the second in a row after the Trojanettes lost their first 14 games of the season with 12 coming by double digits.
"It comes down to tremendous hard work," said Erickson. "They are really starting to play together. There were people saying we weren't going to win a game. This is good for our community and good for our school. I'm looking forward to next year."
Hope Ogg and Anna Kelley led the Tigers with nine points each. Griswold ended the regular season at 2-17 overall and 1-9 in the Corner Conference.
The Trojanettes finish the regular season at 2-14 overall and 1-9 in the conference. They open play in the Class 1A Region 7 Tournament, Thursday, Feb. 13 at St. Albert.