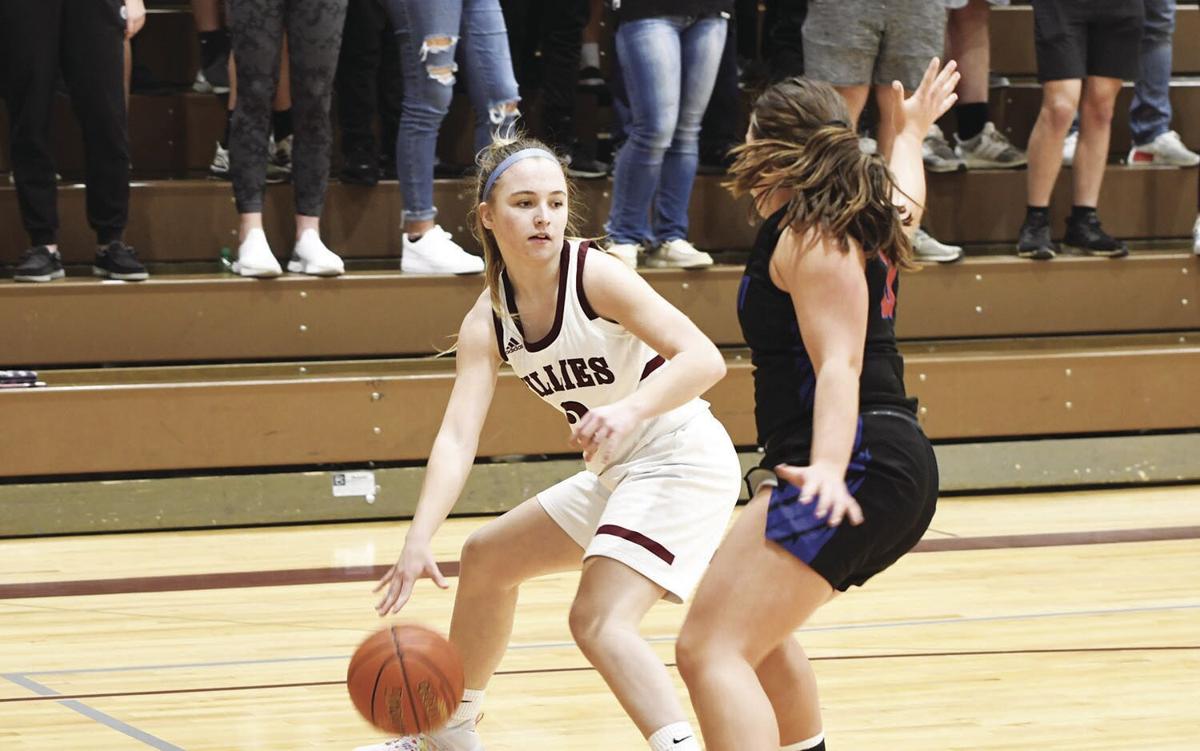 SHENANDOAH – The pressure defense from Council Bluffs Abraham Lincoln was the difference in a 42-29 Lynx win over the Shenandoah Fillies Tuesday, Nov. 23, in the season opener for both girls basketball teams.
Shenandoah was as close as four early in the fourth quarter, but scored just two points in the final 5 minutes, 30 seconds to watch the Lynx pull away.
Shenandoah head coach Jon Weinrich said AL played a physical brand of basketball that his girls were unable to match for 32 minutes.
"Abraham Lincoln is a good team and they have some kids that have played a lot of basketball," Weinrich said. "We handled the physical play well at times and at times we didn't. For a first game, there were a lot of things to build on. We could have played better, but I'm proud of the effort."
A pair of free throws from Fillies senior Brooklen Black put the Fillies on the board and a Caroline Rogers layup was Shenandoah's first field goal, coming nearly five minutes into the contest.
The Lynx built the lead to seven early in the second period, but the a triple by Black started a 9-0 run capped by a Jenna Burdorf free throw that gave the Fillies a 17-15 lead with 39 seconds left in the first half. Bailey Muhlbauer made a free throw for the Lynx and Ella Boes had a steal and layup just before the halftime horn to put the Lynx up 18-17 at the break.
The Fillies had several misses from inside of 5 feet during the game, most of them coming in the first half. Weinrich said if they would have made a few of those it could have changed the look of the game a bit.
"We had a chance to score some early points and just missed and then they made those shots," Weinrich said. "The score was close for a long time. We didn't play our best, but they probably didn't either. Their shooting percentage was way better. Our rebounding was pretty good. We were just a little careless with the ball here or there."
The Fillies stayed in striking distance in the third quarter and then baskets by Lynnae Green and Rogers early in the final period cut the Lynx lead to four at 31-27 with 5:30 to play. Shenandoah's only basket from there, however, was a layup by Keelee Razee to make it 37-29 with 2:15 left as the Lynx ended the game on an 11-2 run.
"It was nothing unexpected from the first game," Weinrich said. "We handled the physicality better than we have in the past. We just have to adjust and go from there."
Baylie Girres scored 13 points to lead the Lynx. Weinrich felt his team's defense was mostly good.
"We had a lot of steals and had our hands in the passing lanes," Weinrich said. "We just need to be more consistent. Every play is important in a close game and giving up two easy points hurts and we did that a couple too many times."
Razee and Green scored six points each to lead the Fillies with Rogers and Black just behind with five each. From there, Reese Spiegel, Kassidy Stephens and Allie Eveland all scored two points and Burdorf finished with one. Additional stats will be added here when available.
The Fillies return to the court after the Thanksgiving holiday break with a Monday home game against Underwood to start a three game week.