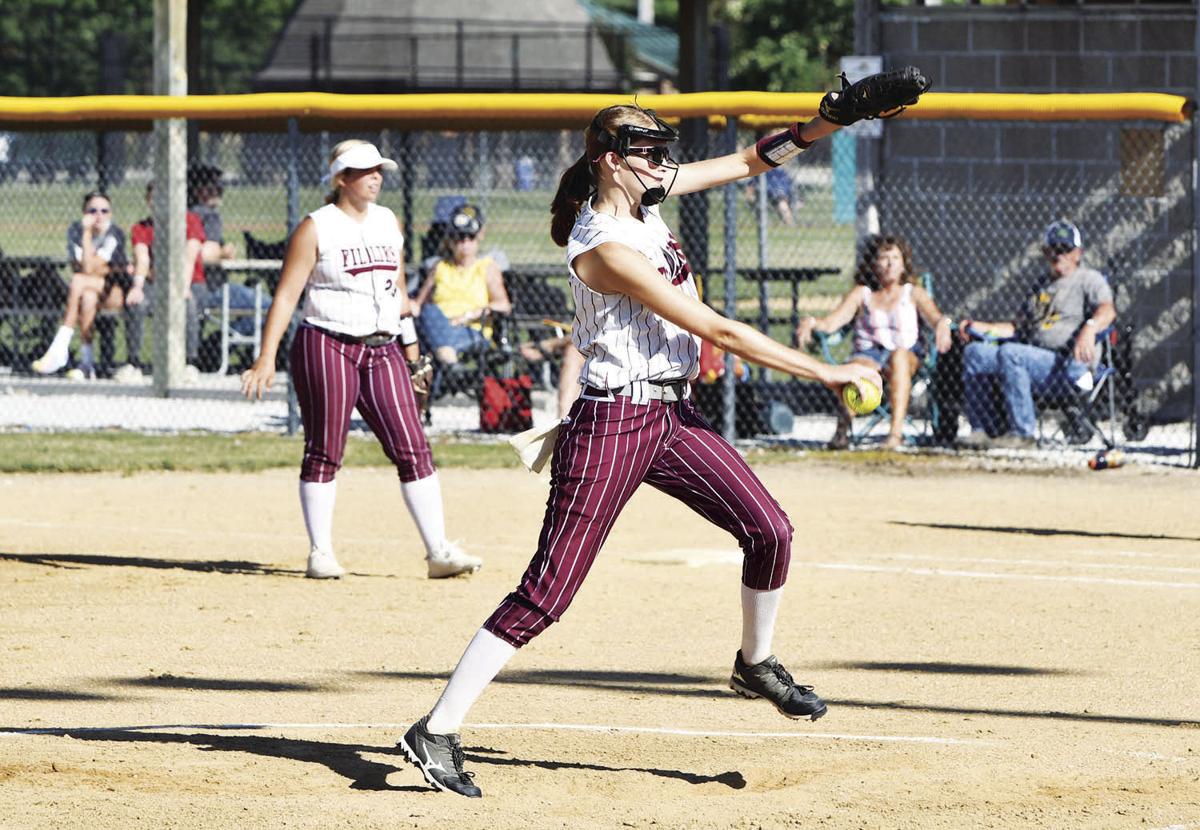 SHENANDOAH – The Shenandoah Fillies scored four runs in the first inning and that was enough in a 5-3 win over Fremont-Mills, Thursday, July 9.
On a day when the Shenandoah program celebrated its four seniors, it was an eighth grader that held the Fremont-Mills bats down through the first half of the game.
Jenna Burdorf retired the first 10 Knights she faced, and gave up just one hit through four shutout innings. After an out in the fifth, she walked the bases loaded. She struck out a batter, and then Malea Moore's RBI infield hit glanced off Burdorf's hand, ending her evening.
"She pitched well," Shenandoah head coach Aaron Burdorf said on his pitcher and daughter. "It was exciting to see her rolling."
Meanwhile, the Fillies swung the bat well early with a four-run first inning. Delanie Voshell and Lydia Morales opened with singles and moved to third on an error after a fly out. A walk loaded the bases, and then Brooklen Black drove in a run with a sacrifice fly. Courtnee Griffin followed with a two-run double and came around to score on Sidda Rodewald's single.
Shenandoah added a run in the third. Brooklen Black walked and scored when the ball was slowly returned to the infield after a Griffin single.
Fremont-Mills pitcher Taylor Morgan settled in nicely from there, limiting the Shenandoah bats to one hit and two base runners over the last three innings.
The Knights scored two runs in the fifth when Voshell replaced Burdorf in the circle. They added a run in the sixth and left runners on second and third. Voshell worked around a one-out walk in the seventh to preserve the win.
"It's a good thing we put that big inning together at the beginning," Coach Burdorf said. "It was good to see the bats wake up and move people around. It was a good start, but we have to continue that energy throughout the game. We can't sit on a lead and expect it to roll over by itself.
Burdorf earned the win in the circle. She struck out seven Knights over 4 2/3 innings, giving up two hits, three walks and two runs, one earned.
Voshell struck out four in 2 1/3 innings of relief, giving up three hits, a walk and an earned run.
Voshell and Griffin led the Fillies with two hits each. Griffin added two RBIs as the Fillies improved to 11-5 on the season.
Seniors Claire Adkins, Natalie Gilbert, Nichole Gilbert and Lydia Morales were honored, along with their parents, prior to the game.
Fremont-Mills fell to 6-10.
Be the first to know
Get local news delivered to your inbox!