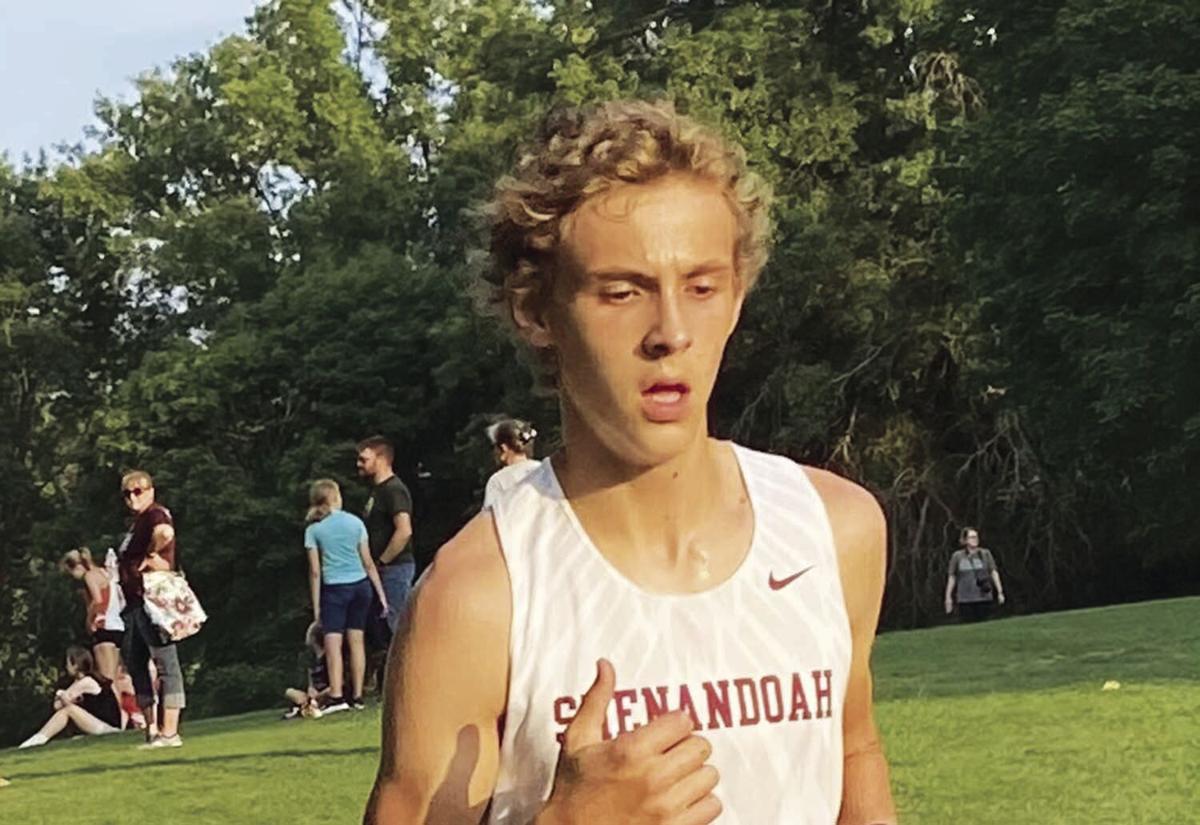 The Clarinda girls and boys cross country teams both won their second consecutive meet championship Monday, Sept. 13, at Red Oak's Paul Fish Cross Country Invitational.
The Cardinal girls had the top three individual finishers and six of the top nine to score 18 points. Shenandoah was a distant second with 60 points.
The Clarinda boys had two of the top three and six of the top 11 finishers to score 30 points. Shenandoah had four of the top 12, scoring 43 points for a runner-up finish.
Both Red Oak teams finished third.
Mayson Hartley rolled to the victory to lead the Cardinal girls. She finished in 21 minutes, 50 seconds, more than 90 seconds clear of teammate Raenna Henke, who was second in 23:23. Ashlyn Eberly finished third in 24:09.
Callie King was next for the Cardinals, taking sixth in 25:00 while Amelia Hesse was eighth in 25:46 and Cheyenne Sunderman ninth in 26:02.
Hailey Egbert finished fifth to lead the Fillies in a time of 24:45. Christene Johnson and Abby Martin were both in the top 15 for the Fillies with Johnson finishing 12th in 27:12 and Martin 14th in 28:00.
Lauryn Dukes took 19th in 29:29 and Kelsey Franklin 25th in 32:54 to complete the Shenandoah lineup.
Kyle Wagoner was the top finisher for the Clarinda boys for the third consecutive meet, taking second in 18:55. Red Oak's Baylor Bergren won the race in 18:43. Wagoner's teammate, Treyton Schaapherder wasn't far behind Wagoner with a third place run of 19:03.
Michael Mayer was Clarinda's third finisher, coming in sixth overall in 19:59. Lance Regehr, Mark Everett and Alex Lihs were all quite close to each other coming in with ninth, 10th and 11th place marks. Regehr finished in 20:38. Everett and Lihs both finished in 20:47. Forrest Eberly was Clarinda's final finisher, taking 22nd in 22:13.
The Shenandoah Mustangs were led by Alex Razee's fourth-place finish in 19:32 with Mitchell Jones not far behind, taking fifth in 19:51.
"Alex and Mitchell provided a great 1-2 punch for the team," Shenandoah head coach Andy Campbell said. "They are running very well right now."
Eli Schuster also placed in the top 10 for the Mustangs, taking seventh in 20:11, a performance Campbell said should make him "very proud of himself."
Josh Schuster was next for the Mustangs in 12th with a run time of 20:50. Brandon McDowell wrapped up the scoring with a 15th-place run of 21:08.
"Josh is getting better each race," Campbell said. "Brandon competed well."
The Mustangs had two more top 20 finishes with George Martin crossing in 16th in 21:28 and Damien Little Thunder in 19th in 22:00.
Campbell was hoping this was a race they could give Clarinda a run.
"I felt going into the race it would be a match race between Clarinda and us," Campbell said. "I felt the guys ran very well (Monday), but Clarinda ran a great race."
Shenandoah is off until Tuesday, Sept. 21 when they travel to Creston. Clarinda is there too, but runs before that too, Thursday at Panorama.