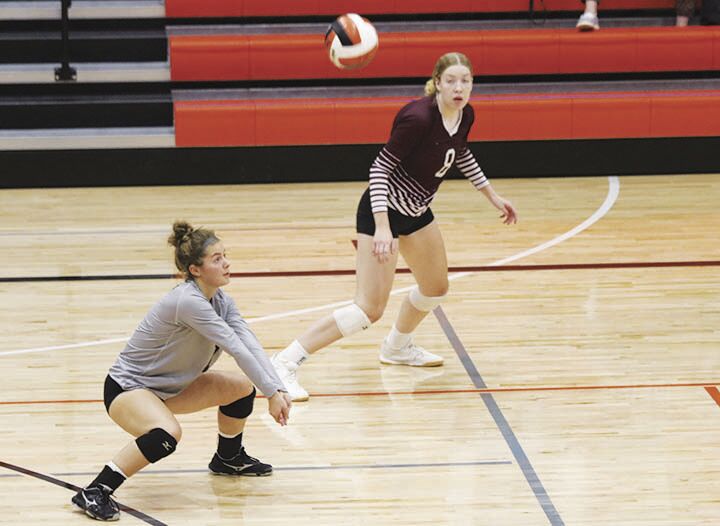 The Shenandoah Fillies lost their final two Hawkeye 10 Conference matches of the season, 3-1 to Atlantic and 3-0 to Red Oak, Tuesday, Oct. 13 at Red Oak High School.
The Fillies took a set and nearly took another from the Trojans with game scores of 25-15, 20-25, 25-17 and 28-26. Red Oak beat the Fillies 25-11, 25-14 and 25-15.
Red Oak also beat Atlantic giving the Tigers a share of the conference championship.
In the match against Atlantic, Jasmine Rogers led a balanced offensive attack with 10 kills. Allie Eveland added nine and Cassidy Morris finished with eight. Jenna Burdorf had four kills and Kate Lantz ended with three. Mia Parker set up the offense with 16 assists. Brooklen Black added 10 while Burdorf had three and Lantz two.
Lantz led the defense up front with three blocks. Eveland and Rogers added two each.
Sidda Rodewald was the best of Shenandoah's back line with 17 digs. Parker added nine, Black had eight and Macee Blank seven. Bailey Maher picked up five, Olivia Stogdill had three and Lantz and Eveland finished with two each.
Rogers finished with six kills to lead the offense in the loss to Red Oak while Lantz added three.
Rogers finished with 13 digs to lead the team. Rodewald added six while Maher finished with four. Parker, Stogdill and Black all had three.
The Fillies finished the triangular at 89% from the service line. Stogdill and Parker served three aces each while Black and Rodewald ended with two.
The Fillies fell to 3-18 overall and finished Hawkeye 10 play at 0-10. They travel to Southwest Valley for a triangular with the host Timberwolves and Thomas Jefferson Thursday. They'll follow that with a trip back to Red Oak Monday to open the regional tournament.
Be the first to know
Get local news delivered to your inbox!