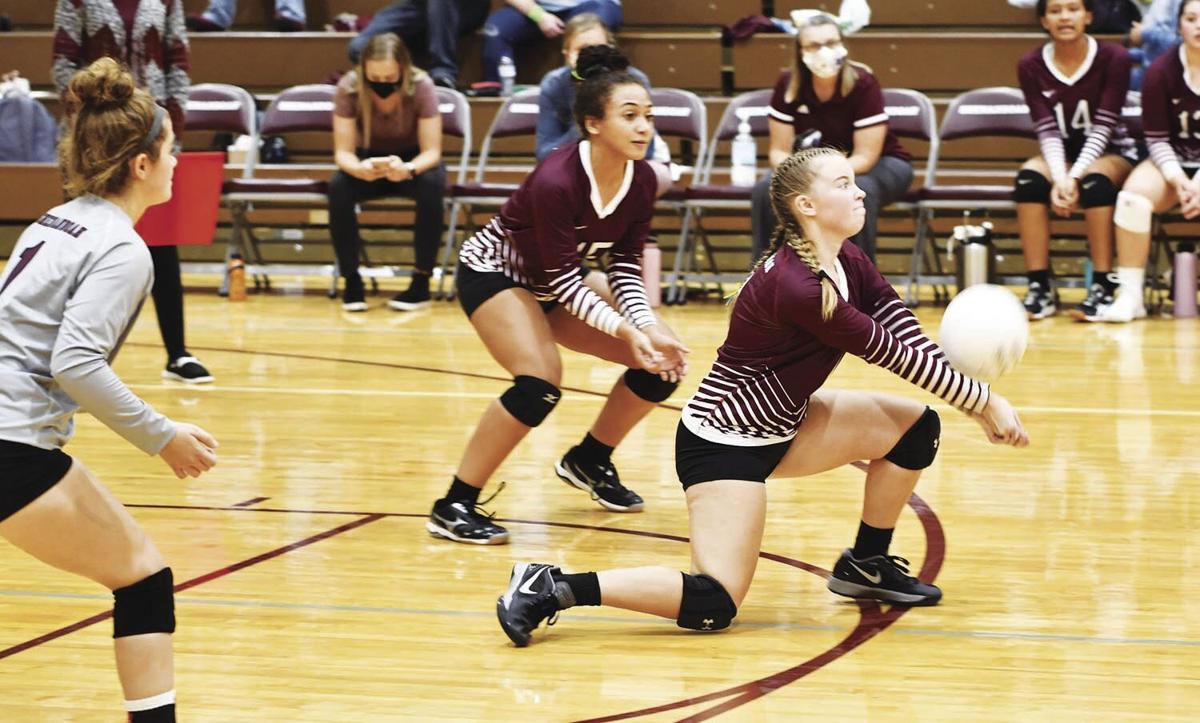 SHENANDOAH – Clarinda volleyball earned its first Hawkeye 10 Conference win of the season and denied rival Shenandoah from winning one in a 3-1 Cardinal victory, Tuesday, Sept. 22.
Game scores were 25-18, 22-25, 25-19 and 25-18.
"It's nice to come into their town, play hard and play well," Clarinda co-head coach Macy Elwood said. "We talked to the girls about how they weren't going to give it to us and that we had to play hard every ball, every set."
Clarinda's co-coaches Elwood and Kaitlin Allen and Shenandoah head coach Toni Comstock both had good things to say about their team's performance, but also said there are things to clean up.
The Cardinals started the match strong with a couple Faith Espinosa winners helping stake the visitors to an early 6-1 advantage. The lead was extended to 10-4 leading to a Shenandoah timeout, and it kept extending to as many as 16-5. Shenandoah scored the next three, but the teams played virtually even volleyball the rest of the set as Clarinda took a 1-0 lead.
A 5-0 run with kills by Allie Eveland and Cassidy Morris helped the Fillies jump in front 8-4 in the second set. Shenandoah led by as many as five at 11-6 only to see Clarinda come back and take the lead at 13-12 on a Shenandoah passing error. A Kate Lantz winner started a 4-0 run for the Fillies, but Clarinda scored the next four. The teams continued to exchange the lead until Shenandoah took it for good on a Clarinda violation at 21-20. A Cardinal hitting error completed the set win for Shenandoah.
Elwood said her group refocused well after that second set.
"We told them before the match that we're not losing to them at all," said Elwood, "but it happened and we said that's not going to define our night. We have to come out like we did in the first set."
Elwood said serve receive was better in the final two sets and everything went Clarinda's way to start the third set as the Cardinals scored the first eight points.
A Jasmine Rogers kill ended the run, and started a 5-0 spurt for the Fillies. The Fillies erased the entire eight point lead to tie the score at 11. Clarinda scored the next five points, however, and rolled from there straight into the final set, which saw them take an 8-2 lead to start.
"We did a nice job on some things," said Comstock. "Our back row did a nice job. Macee (Blank) and Sidda (Rodewald) stepped up their games. Serving was not our strong suit though. In the front row certain players played well and met my expectations and some did not. There's no excuse as to how some of us played and we'll have to fix that."
Comstock liked her team's defensive play for the most part, mentioning Rodewald and Blank again. She also said Olivia Stogdill covered the block well and Bailey Maher played well at times.
Offensively, the Fillies can't commit as many errors as they did.
"We work hard in practice on timing and waiting for the ball to be set to see where we need to go," said Comstock. "Some of us take that advice and change the process of how we hit and others are still doing the same things and it's not effective. We'll go back to the drawing board and see what else we can do."
The Fillies offense had 32 hitting errors on the evening against 26 winners. Rogers led the team with eight kills. Eveland added five while Lantz finished with four and Parker and Morris both had three. Brooklen Black added two.
Black popped up 13 assists to go with Parker's nine and Blank's two.
Parker led defensive back row with 17 digs. Blank added 13 while Rodewald finished with 12. Stogdill added nine digs, Black had six, Maher five and Morris four.
Shenandoah was 84 percent from the service line with Stogdill serving three aces and Blank two.
Espinosa led Clarinda's offense with eight kills. Stickler added seven to go with 17 assists and 19 digs. Jessalee Neihart added four kills, Emmy Allbaugh and Skylar Kelley finished with three while Presley Jobe had two. Taylor Cole added two assists.
Cole led the Cardinals in digs with 20 while Allbaugh added 13. Jobe, Neihart and Espinosa all had nine with Kelley adding five. The Clarinda front row defensively produced 15 blocks, led by five, all solo, from Espinosa. Kelley contributed four blocks while Neihart had three and Stickler finished with two.
The Cardinals were 92 percent from the service line with Jobe and Niehart serving four aces each.
Clarinda improved to 4-13 overall and 1-6 in the conference. The Cardinals host Mount Ayr Thursday before a natural schedule break of nearly two weeks. Elwood said her team has to work harder than all of their opponents going forward if more success is going to come.
"If we work hard we can play with about anybody," said Elwood. "We just need to believe that and I think the girls do."
"As long as we capitalize on certain skills when we can that helps too," Allen added. "When we do that it gets the girls excited."
The Fillies fell to 3-12 overall and 0-4 on the conference on a night they honored their senior group of Blank, Maher, Parker, Rodewald, Rogers, Stogdill and manager Allison Kinser.
The Fillies host Lewis Central Thursday and Kuemper Catholic Tuesday in the final home matches of the season.
Be the first to know
Get local news delivered to your inbox!