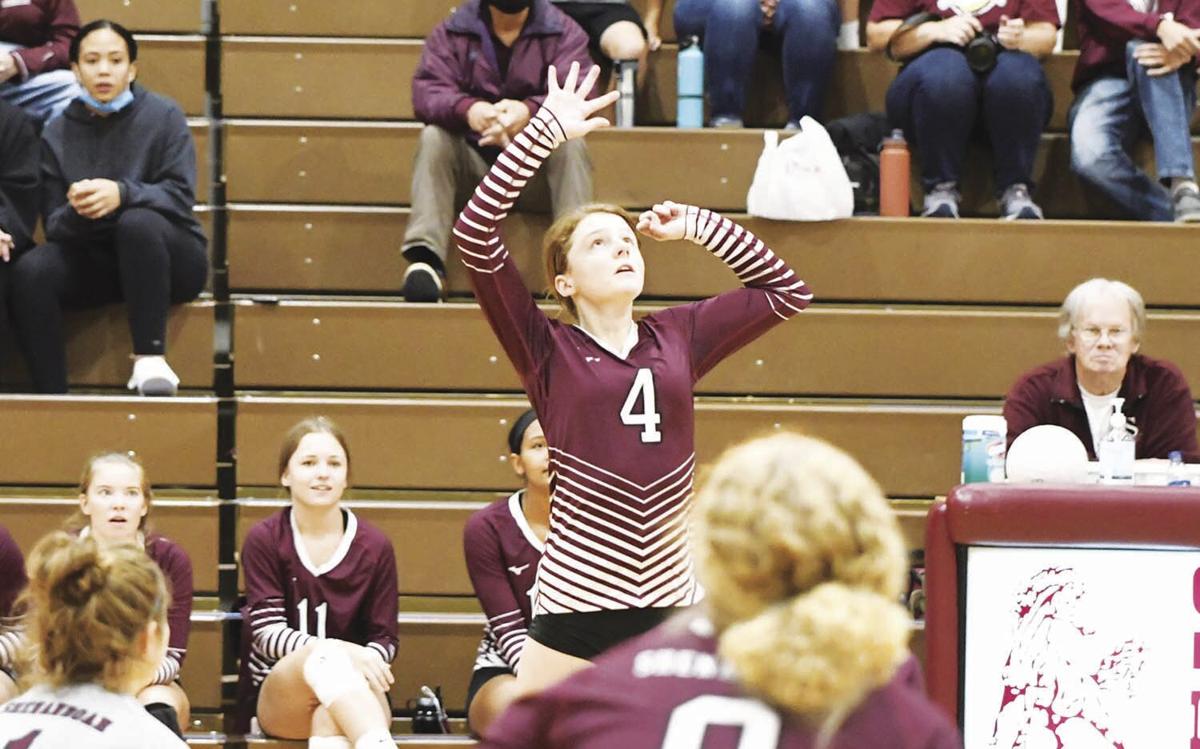 The Shenandoah Fillies opened and closed their day with victories at the Mount Ayr Volleyball Tournament, Saturday, Sept. 19.
The Fillies beat Clarke 2-0 and then lost 2-1 to East Mills in pool play. The second place finish in the Black Pool moved the Fillies into the tournament portion where they lost to Lamoni 2-0 and then beat Interstate 35 2-0 to finish third place overall.
The Fillies opened the day with a 21-18, 21-19 win over Clarke.
Jasmine Rogers led the offense with seven kills. Cassidy Morris added three while Kate Lantz and Jenna Burdorf finished with two each. Brooklen Black and Mia Parker set up the offense with seven assists each.
Olivia Stogdill paced Shenandoah's defense with nine digs, followed closely by Black's eight. Parker added six digs while Bailey Maher had three and Sidda Rodewald two. Rogers and Lantz finished with two blocks each.
The Fillies pushed East Mills in their second match, but lost 21-19, 16-21, 15-7.
Lantz, Rogers and Allie Eveland all had four kills to lead Shenandoah's attack. Morris added two. Parker put up 10 assists with Black adding two.
Defensively, Rodewald led the Fillies with seven digs. Parker added five while Stogdill and Macee Blank had four each. Black added three while Eveland ended with two. Rogers ended with four blocks. Lantz added two.
Shenandoah's runner-up finish in the Black Pool put them up against Red Pool winner Lamoni in the semifinals and the Fillies fell 25-21, 25-21.
Eveland led the offense against the Demons with seven kills. Rogers finished with six while Lantz had four, Morris three and Maher two. Parker finished with 15 assists with Black adding six.
Blank and Rodewald finished with six digs each. Maher and Black added four. Stogdill ended with three and Eveland two. Rogers had another two blocks.
Shenandoah ended its day with a strong 25-14, 25-13 win over Interstate 35.
Rogers led the offense with six kills while Eveland added five winners. Lantz had four kills and Morris three. Black contributed 11 assists with Parker adding nine.
The block was strong with the Fillies putting up seven total blocks, led by three from Rogers and two from Parker.
Stogdill finished with a team best five digs. Blank added four while Parker, Black and Rodewald all had three. Maher added two.
The Fillies finished the day with 29 aces with Parker's seven leading the team. Blank added six and Maher finished with five. Black and Stogdill ended with four aces each and Rodewald had three. They were 86 percent overall from the service line.
The 2-2 day gave Shenandoah a 3-11 record for the season. The next three dates are conference home matches for the Fillies, starting with Tuesday's clash against Clarinda.
Be the first to know
Get local news delivered to your inbox!