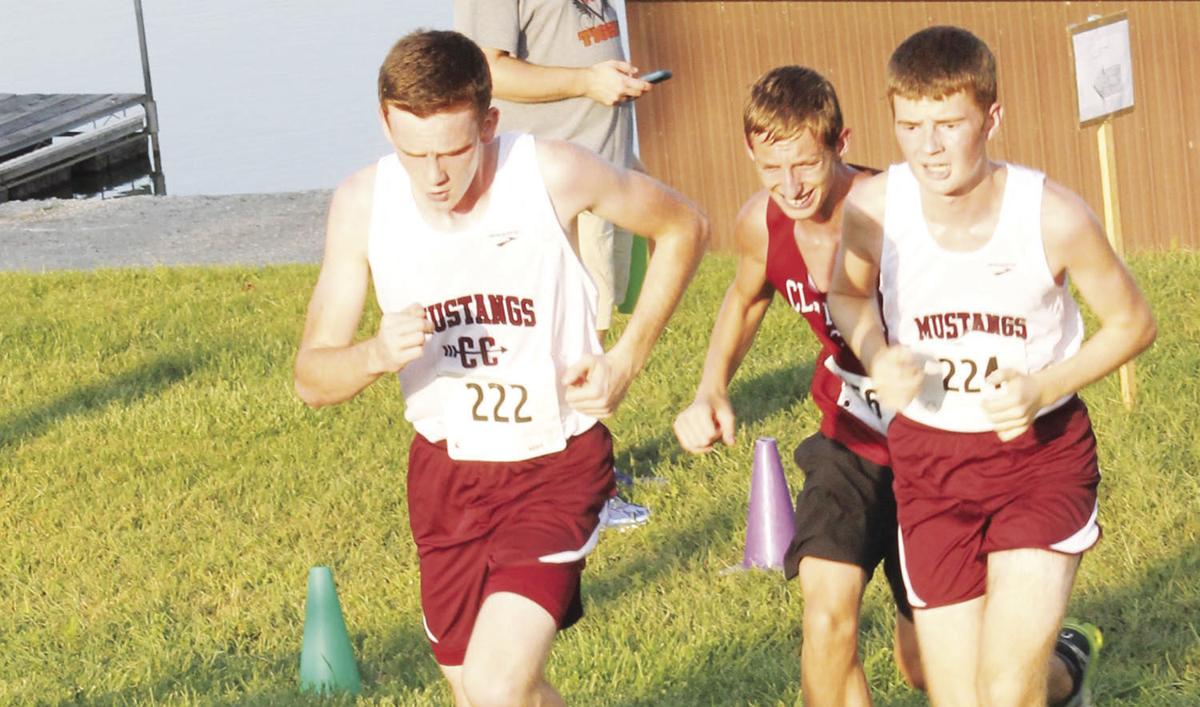 Sidney senior Noah Jorgenson won his fifth cross country race of the season and both Shenandoah teams continued to show improvement, taking second and fourth at the Southwest Valley meet, Thursday, Sept. 19.
The Fillies finished second without two varsity regulars due to illness and injury while the Mustangs were fourth with a new top runner.
Jorgenson was the fastest for the fifth time in five races. He finished the Lake Icaria course in 18 minutes, 0 seconds, beating runner-up William Gillis of Central Decatur by 51 seconds.
Josh Schuster led a pack of three Mustangs that were within 14 seconds of each other. Schuster placed 16th in 20:38, followed by Mitchell Jones and Nick Mather in 17th and 18th.
"Schuster was our number one runner for his first time ever," Shenandoah coach Andy Campbell said. "He ran a really strong race. His last half mile was tremendous."
The leading trio helped Shenandoah score 106 points to take the fourth position. Central Decatur won the meet with 36 points, placing all five scorers in the top 12. Red Oak scored 74 to take second. Clarinda was third just three points better than the Mustangs.
Bryce McDowell and Eli Schuster were within two seconds of each other to finish the scoring for the Mustangs. McDowell ran a 21:43 to finish 27th with Schuster right behind.
"This is the first time both (McDowell and Schuster) counted as scorers at the same meet."
Blake Son was 37th and George Martin 40th to finish Shenandoah's lineup.
"I was extremely happy with how well the guys ran," said Campbell. "This was a challenging course and tough field. The guys definitely stepped up and gave a great effort. I was very proud of them."
The Fillies placed second without usual number two runner Sarah Gilbert. She sat out due to a hip injury, and Christene Johnson stepped up to join Brenna Godfread in the top 10.
Godfread was fifth in 24:20 while Johnson was exactly 90 seconds and four places back.
"I told Christene she needed to fill in a gap and she did just that," Fillies coach Liz Skillern said. "After the first ¾ mile she was right on Brenna's heels and worked on maintaining contact throughout the race."
The two top 10 finishes helped Shenandoah score 79 points, beating out Clarinda for second on the sixth-runner tiebreak. Creston won the meet with 51 points, led by meet winner Braelyn Baker, who finished in 22:06.
Hannah Mulligan also missed the meet due to illness and Keelee Razee stepped up to run third fastest for the Fillies. She was 24th in 28:22. Kelsey Franklin and Lydia Morales completed the scoring for Shenandoah, finishing 26th and 28th.
"Our scoring times are still way too far apart," said Skillern, "and that is something we really have to continue to improve as we near the second half of the season."
Hadlee Kinghorn was the final Shenandoah varsity runner, taking 31st.
"This was the first time we have run at Lake Icaria," said Skillern. "It was a beautiful, but the course was quite a challenge. My girls were very intimidated at the start, but I was pleased with the determination and competitiveness I saw in them throughout the race."
Fremont-Mills and Essex as well as Sidney were also in the field with only Jorgenson and the Cowboys having enough runners to field a team score.
The Cowboys were eighth with 203 points. Cole Jorgenson was Sidney's number two runner again, taking 25th in 21:40.
Kyle Beam, Connery Humphries and Dane Moyer completed the scoring and the field for Sidney, finishing 46th, 62nd and 82nd.
Nick Miramontes led a group of three Fremont-Mills Knights with a 30th place run of 21:53. Braden West ended 70th while Moses Ekpai finished 87th.
Essex was led by Jacob Robinette's 86th place run in 29:10. Wesley Johnson and Preston Driskell were 91st and 93rd.
Savannah Hall led a group of four Sidney girls with a 20th place run of 27:50. Jozie Hendrickson was 51st, Grace Zach 56th and Danica Laumann 58th.
Lexi Hankins represented Fremont-Mills with a 44th-place time of 31:57.
Natausha Dillinger finished in 38:00 for 61st place to lead Essex. Trinity Gordon and Tori Sample were 63rd and 67th for the Trojanettes.
Next up for Shenandoah and Essex is a trip to Creston, Tuesday, Sept. 24 while Sidney and Fremont-Mills next travel to Nebraska City two days later.
Be the first to know
Get local news delivered to your inbox!