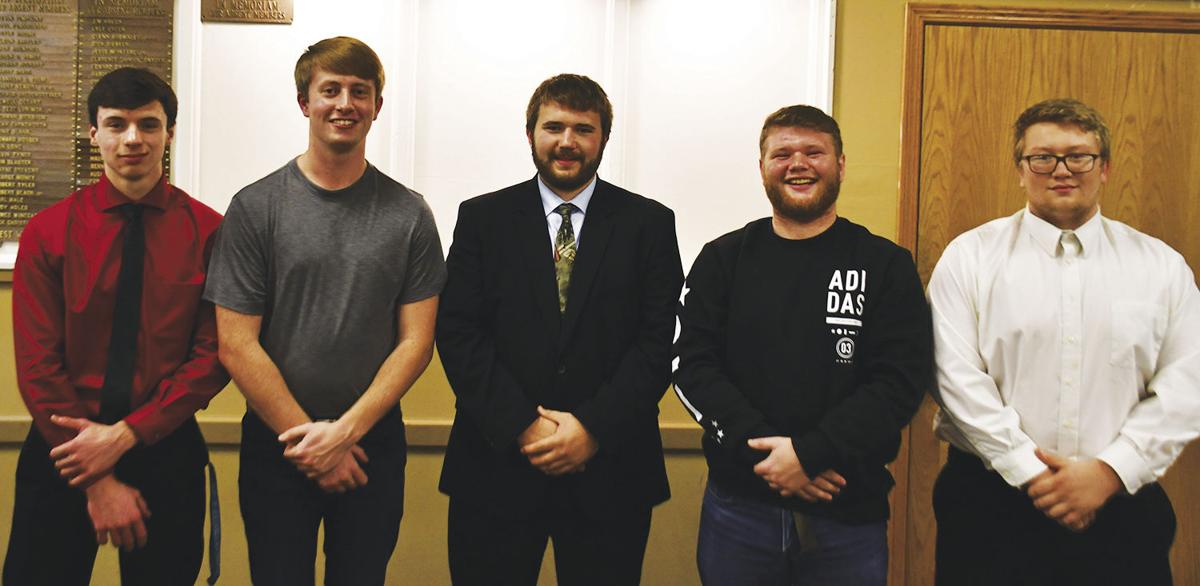 SHENANDOAH – The Shenandoah football and football cheerleading teams celebrated their recently completed season during the annual end of season banquet, sponsored by the Shenandoah Elks Club, Monday, Nov. 12.
The Mustang football team finished the season with a 0-9 record against a schedule that included five playoff teams and a state finalist.
Mustangs coach Ty Ratliff said the record doesn't show the overall growth in the program that took place over the course of the season. That included about a 50 percent jump in number of kids in the program this season over last.
Ratliff adds that the team maintained a good attitude and effort all season and stuck together despite having lots of new things implemented to start the season and the injury bug hitting pretty hard during the middle stages of the campaign.
Those injuries forced the team to go further down the depth chart, one that was already filled with inexperience.
Ratliff said through all of that the team did gain some valuable experience as they will be set to return 24 letter-winners in 2019.
The Mustangs lose seven to graduation in Gabe Allumbaugh, Trevor Bauer, Ricky Bisbee, Tyler Courtier, Steve Ruiz, Matthew Shaw and Jake Stenzel.
Ratliff also handed out team and individual awards. On the academic side, the team received the Distinguished Academic Achievement Award from the Iowa High School Athletic Association for having a team GPA of 3.25 or higher. Stenzel, Bauer, Payton Stephens, AJ Herold, Conner Birt, Kyle Cerven and Anthony Stogdill also received academic awards from Class 2A District 9 while Stenzel and Bauer also earned academic honors from the Hawkeye 10 Conference.
Cerven and Bauer were named first team all-district by the district's coaches. Herold was a second team selection while Stogdill and Stenzel earned honorable mention recognition.
Ratliff also handed out the annual Kiwanis Awards with Cerven earning Varsity MVP and Defensive Back of the Year. Bauer was named Wide Receiver of the Year, Birt earned Back of the Year honors, Tyler Courtier was named Linebacker of the Year and Stenzel was named the Offensive Lineman and Defensive Lineman of the Year.
Ratliff also voted Stephens as the team's Most Improved Player while the team voted Zayne Zwickel as JV MVP and Clayton Holben as Freshmen MVP.
Football Cheer Coach Angie Trowbridge also honored her team in her final season as head coach. She had 11 on the squad this season with only three returners.
Trowbridge is finishing the season with those three returners – Ami Apperson, Tyler Freed and Kayla Shelton - set to cheer in the Iowa Cheer Coaches Association Honor Squad at the Class 1A and 2A state football championship games, Friday, Nov. 16.
Trowbridge liked how her team came together just in time for the ICCA state competition earlier this month.
The squad also received the Distinguished Academic Achievement Award from the IHSAA for a team GPA of 3.25 or higher.