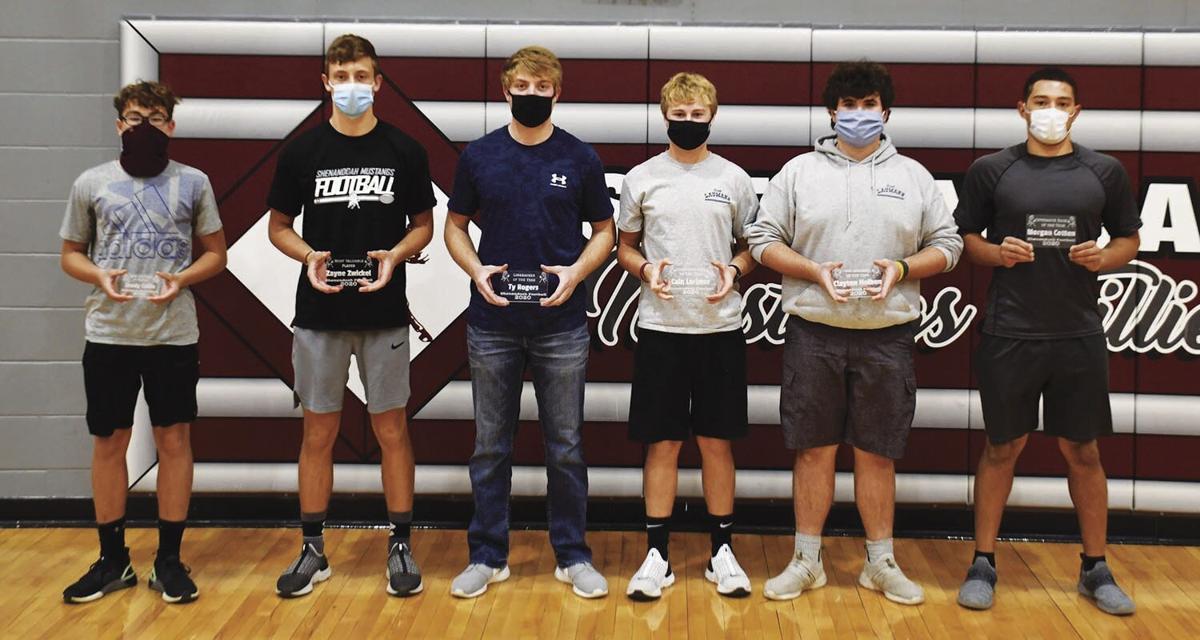 The Shenandoah Mustangs improved their number of wins and were competitive inside Class 2A District 9 during a shortened 2020 season.
The Iowa High School Athletic Association knocked the regular season schedule from nine games to seven because of the COVID-19 pandemic, but allowed every team into the playoffs. Shenandoah lost in the opening round of the Class 2A playoffs, but still managed three wins in eight contests. The three wins were one more than last year and the highest mark for the program since 2016.
"Improving our overall record from last year and playing competitive in each game," Shenandoah head coach Ty Ratliff said when asked about season highlights. "Even when the scores weren't in our favor our kids fought to the end."
The Mustangs opened the season with a pair of victories, beating AHSTW 24-22 and Sidney 28-20. After a 13-7 loss to Alta-Aurelia in game three, a game that was only scheduled about 48 hours prior to kick off because of positive COVID-19 cases on scheduled opponent, Des Moines Christian.
The Mustangs then opened play in Class 2A District 9 with a 41-7 win over Red Oak before losing their final four games. Two of those losses were to Clarinda and one each to Atlantic and Greene County, who both advanced to Class 2A's round of 16.
A 28-0 loss to district champion Atlantic in Week 6 was the closest of those final four games for the Mustangs, but Ratliff said his team battled hard all season.
"I felt our team handled our ups and downs great," Ratliff said. "We fought through adversity several times throughout the season. The road wasn't easy late in the year and lacking numbers in various spots many young players had to step up. I thought our team rallied around them, embraced them and we gave it everything we had."
The Zayne Zwickel to Blake Herold combination in the passing game was an electric one all season. Herold led the district with 33 receptions while Zayne Zwickel's 82 completed passes were also most in the district.
Zwickel's strong season earned him team MVP honors. Brody Cullin was named junior varsity MVP.
The Mustang defense forced 21 turnovers this season. They intercepted 12 passes and forced nine fumbles, both top 10 numbers in Class 2A.
Shenandoah's three kickoff returns for touchdowns, two by Morgan Cotten and one by Herold, were most in the state in Class 2A.
"Special teams is something we take pride in and it's great to see their hard work pay off," Ratliff said.
Herold and Cotten both earned one of the Mustang Awards this season. Herold was named the team's top wide receiver and Cotten top offensive back. Additionally, Clayton Holben was chosen as top offensive lineman, Cain Lorimor top defensive back, Avery Martin top defensive lineman and Ty Rogers top linebacker.
Cotten led the team with 433 rushing yards and added 332 receiving yards. Holben led the line in clearing the way for Cotten, Zwickel, Herold and the rest of the skill position players.
Martin's 9.5 tackles for loss were most on the team while Rogers added 4.5. Lorimor intercepted four passes, fourth highest total in the district.
Looking ahead, Ratliff said the team will have to find ways to start games better.
"Our first quarter was often sluggish and it put us in a hole early," Ratliff said. "We were great about fighting back, but need to be on top of things early."
Offseason work in the weight room is also essential, and Ratliff said that's not just for his football team.
"This is one area all athletes can invest in to make a commitment to their team and themselves," Ratliff said.
Ratliff said the team grew on both sides of the ball this season with a lot of young players stepping up
"We wanted to be more competitive with teams this year and I feel we accomplished that," Ratliff said. "We can never be satisfied as there is always room for improvement. We have a lot of fun offseason competitions planned to build better team unity, strength and passion for Mustang Football. I'm extremely proud of our boys and look forward to next year with them."