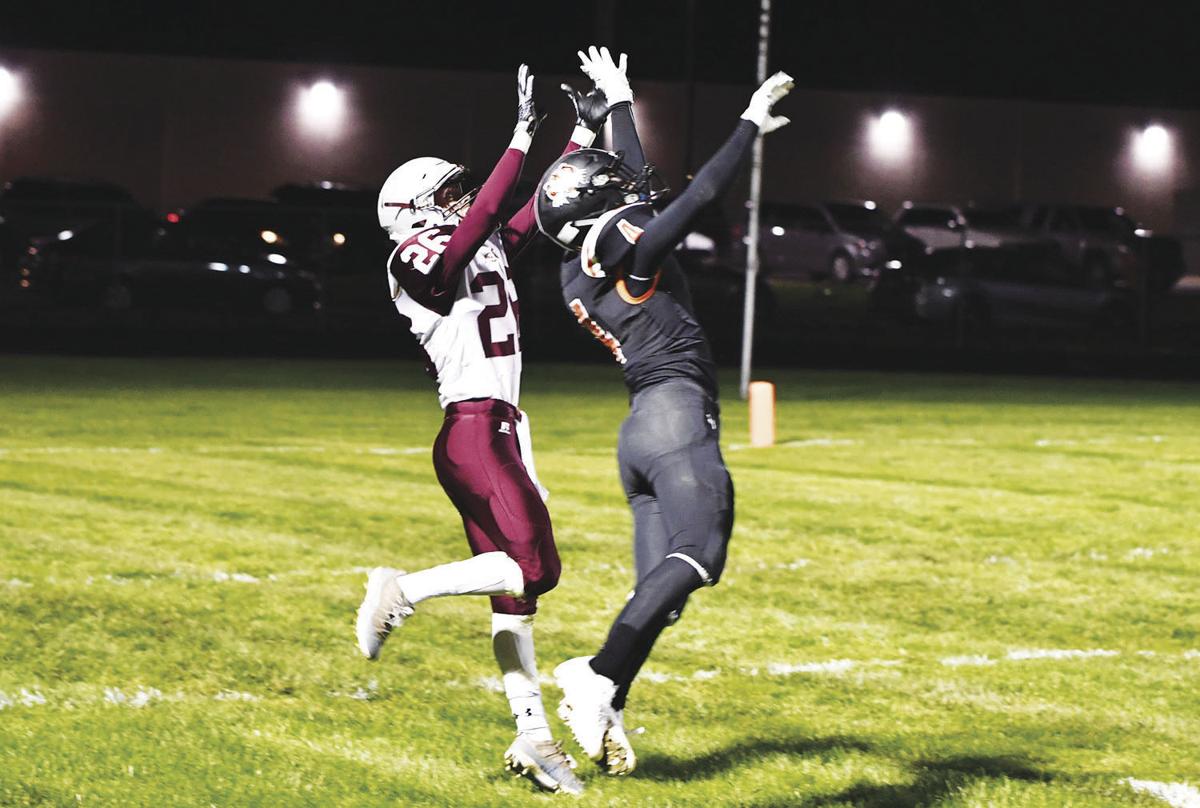 RED OAK – The Shenandoah Mustangs pitched a shutout for the first time since the 2015 season opener in a 42-0 rout of Red Oak, Friday, Oct. 4.
The Tigers managed just 105 yards of offense as the Mustang defense dominated much of the evening.
"(Red Oak) has some potential for big plays," Shenandoah coach Ty Ratliff said, "but we did a good job limiting those. Our pass coverage was good for the most part and we got some good pressure. We stopped the run and forced them to put the ball in the air, which allowed us to make some plays."
The Mustang offense, meanwhile, scored touchdowns the first four times they had the ball, all on long, time-consuming drives.
Shenandoah received the opening kickoff and marched 65 yards in eight plays with Morgan Cotten running in a four-yard touchdown to give Shenandoah the game's first points.
After a Tiger punt, Shenandoah took off on a 10-play, 74-yard drive with Conner Birt scoring on a four-yard run.
The next Mustang drive went 59 yards in 11 plays with most of it coming in the second quarter. Kyle Cerven threw his only touchdown pass of the game to end the drive, a seven-yard strike to Wyatt Aufdenberg to give Shenandoah a 21-0 lead.
Riley Backus intercepted a pass to give the ball back to the Mustang offense and they turned it into a touchdown on a nine-play, 56-yard drive with Cerven scoring on a four-yard rush.
Anthony Stogdill added an interception on defense to stop a Red Oak drive near the end of the half.
Birt and Cerven added rushing touchdowns in the second half for Shenandoah. Birt scored from one yard away with 1:25 to go in the third quarter, starting the running clock. Cerven added his second rushing touchdown, from 22 yards away, with 6:24 remaining in the game.
Cotten ran for 109 yards on 20 carries while Cerven added 100 yards. Birt finished with 54. Cerven completed 14 of 22 passes for 125 yards. Cotten caught five passes for 50 yards and Stogdill hauled in four for 47.
"The offense was clicking all night," said Ratliff. "We were able to move the chains and be balanced with the run and pass. Kyle did a good job leading the offense."
The Mustangs improved to 2-4 overall and 1-1 in Class 2A District 9 and Ratliff said it was nice to earn a district win and have it come against a big rival.
"This was their homecoming and a rivalry game," said Ratliff, "so records don't matter. We had to be ready to play and we got up from the (start). I liked how we came out in the first quarter and first half. Our energy level dropped a bit coming out after halftime, but they responded from there."
Avery Martin led the Mustang defense with 5.5 total tackles and two tackles for loss.
Next up for the Mustangs is their final home game, Friday, Oct. 11 against unbeaten OABCIG. Ratliff said his team will be ready to go.
"The kids will be up for it and want that challenge," said Ratliff. "Our kids played well
against them last year. They have some weapons on offense, but I believe we do too. A lot of people have counted us out all year and now it's time for us to keep moving forward and show everybody what we're about."
Jake Echternach passed for 58 yards and added 25 on the ground to lead the Tigers, who fell to 0-6 overall and 0-2 in the district.