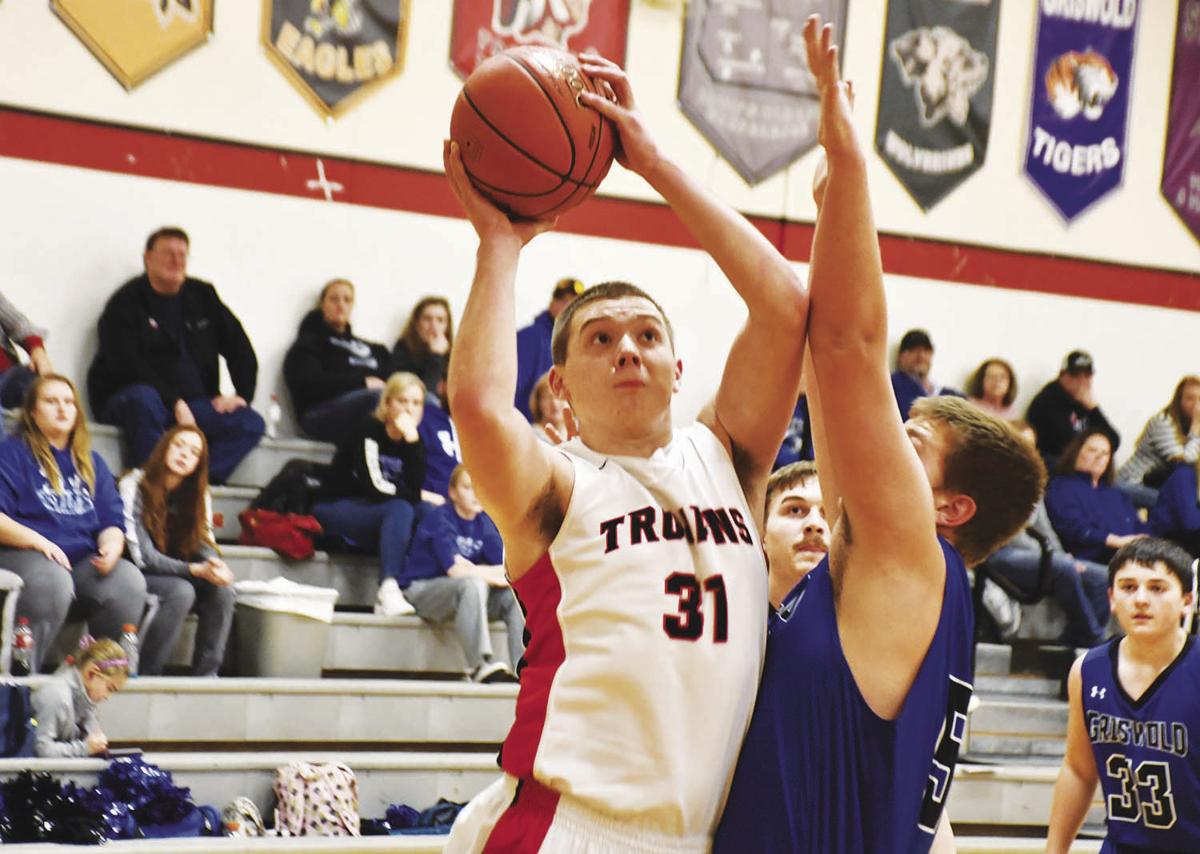 ESSEX – The Essex Trojans were only three points down at halftime, Tuesday, Feb. 11, but Griswold used a 21-7 third quarter to pull away to a 46-28 win.
The Tiger lead was 19-16 at halftime, as the Trojans looked like they had a chance to pull off their first win of the season on a night when their two seniors, Caden Henderson and Wesley Johnson, were honored.
The Tigers scored seven points in just over a minute to start the third quarter, though, to quickly build the lead to 10. Johnson made a pair of free throws, but then Griswold went on another 7-0 run. Essex didn't make a field goal in the quarter until Johnson scored inside in the final minute.
"The third quarter was tough," Essex head coach Chase Heinold said. "We couldn't put the ball in the hoop. That quarter hurt as we were just trying to stop the bleeding after they started to pull away."
Griswold scored nine of the game's first 10 points, but Heinold set up a press against the Tigers and it worked to cut into the Tiger lead.
"We have run the press off and on this season," said Heinold. "It usually comes down to four of the five guys doing a good job, but the fifth guy forgets where he is or doesn't slide quite right. At times it looks really good though, which is encouraging as we move forward into district play."
Triples by Philip Franks and Henderson brought Essex back to within two late in the opening quarter.
Griswold built the lead to nine in the second quarter, but a Tucker Hadden 3-pointer and four points from Johnson cut the halftime lead to three.
The Trojans didn't make a 3-pointer in the second half and shot 35 percent on 26 free throw attempts during the game.
Johnson led Essex with 13 points as he and Henderson played the final regular season game of their careers.
"That was Wes every night," Heinold said on Johnson reaching double digits. "He's going to put it on himself to get to the hoop and put the ball in the bucket. Caden is a good passer and is good defensively. I leaned on Caden and Tucker pretty hard in the triangle-and-two defense."
Adam Houser led Griswold with 22 points as the Tigers concluded the regular season at 4-17 overall and 3-9 in the Corner Conference.
Hadden was Essex's next scorer with five points as the Trojans wrapped up the regular season at 0-17 overall and 0-12 in the conference. They host Clarinda Academy, Monday, Feb. 17 to open the Class 1A District 13 Tournament.