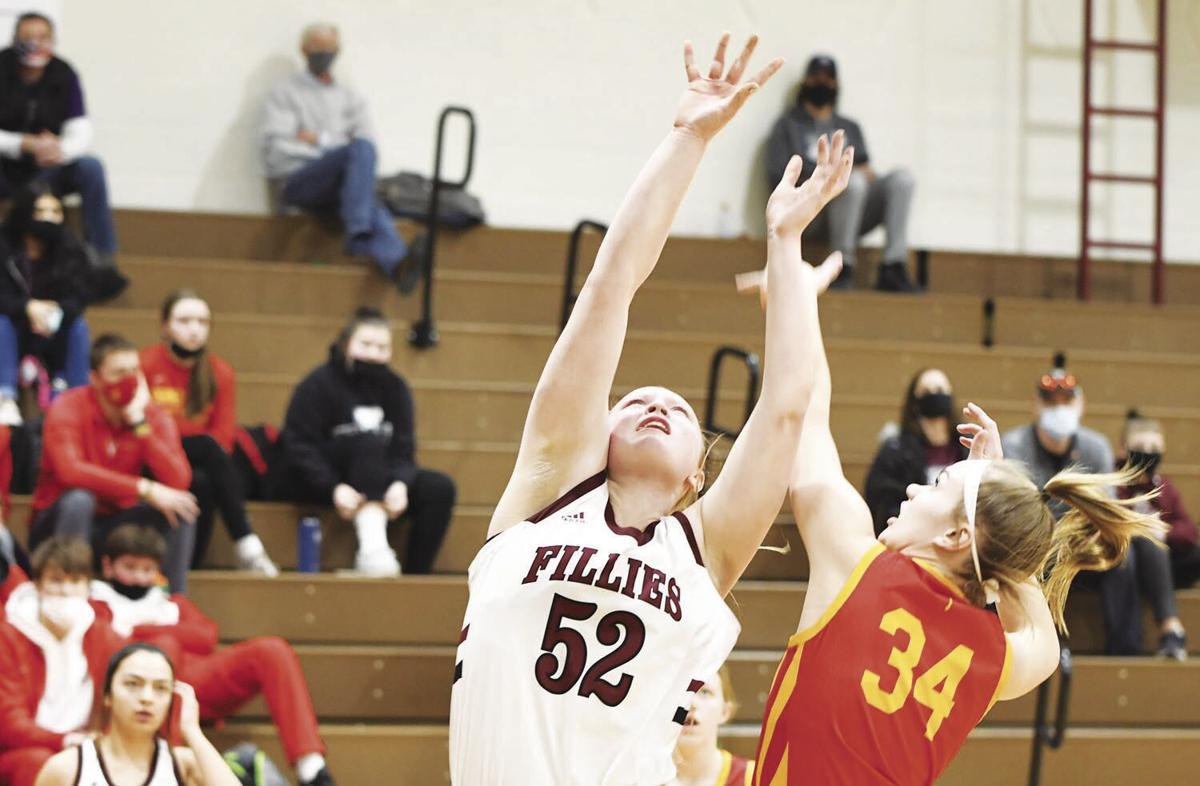 SHENANDOAH – The Shenandoah Fillies had their best offensive output of the season, but gave up the second most points they had all season in a 65-58 loss to Kuemper Catholic Friday, Feb. 5.
The loss dropped the Fillies to 10-9 overall and 3-6 in the Hawkeye 10 Conference.
Kuemper shot out of the gates scoring the game's first eight points in 2 minutes, 7 seconds. Shenandoah head coach Jon Weinrich burned a timeout and his team responded quickly, tying the game by the end of the opening quarter.
The Fillies led by as many as seven when Brooklen Black hit two free throws with 2:33 left in the first half, but Kuemper would answer with the final 12 points of the half, and 17 straight spanning into the third quarter, to lead by 10.
The Fillies pulled back to within five on a Caroline Rogers triple with 3:07 left in the third quarter, but the Knights responded with a Brooklyn Gifford triple and pushed the lead up to 11 in the first minute of the fourth quarter.
The Fillies again responded and closed to within three at 57-54 on a basket by Ava Wolf with 1:30 remaining. Kuemper missed a quick triple for the second straight possession on their next trip, but Kyndal Hilgenberg grabbed the weak side rebound and scored.
Reese Spiegel missed from outside the next time down for Shenandoah and Kora Thomsen put in two free throws for the Knights to extend the lead to seven with 28 seconds left. Jenna Burdorf connected from outside for Shenandoah, but there were just 16 seconds left. Kuemper made all four of its free throws from that point.
"They made some big shots," Weinrich said. "It was just a play here or there that we didn't quite get. A couple times we were down 10 and got it close again. They are good players."
Shenandoah's posts had a nice night down low. Ava Wolf finished with 21 points and 18 rebounds while Allie Eveland added 10 points and six rebounds. Keelee Razee also contributed four points.
"They have one of the better shot blockers around," Weinrich said, "but we wanted to challenge her and when we were aggressive we made a lot of those shots."
The speed of Kuemper and nine made 3-pointers helped the Knights secure their fifth win and third in conference play.
"When you have a good point guard and you can get ahead that's a huge advantage," Weinrich said. "That forced us to go man-to-man and that's not something we do a lot and we got tired. We haven't seen a team run the floor that well. We're getting close, they just beat us. We made good plays. We were in the game. There isn't any doubt we're better now than we have been at any other point this season."
Rogers and Sidda Rodewald made two triples each for the Fillies. Rogers ended the game with eight points and Rodewald six. Spiegel finished with four points, six assists and three rebounds. Burdorf scored three points and Black added two to go with six assists and five rebounds.